A million cases. A million worries
India's known covid-19 case count crossed a million. And the green shoots seen in June don't seem to be really growing
On Thursday, the number of people in India known to have been affected by Covid-19 crossed a million. About 64% of them have recovered, while over 25,000 have died due to the disease.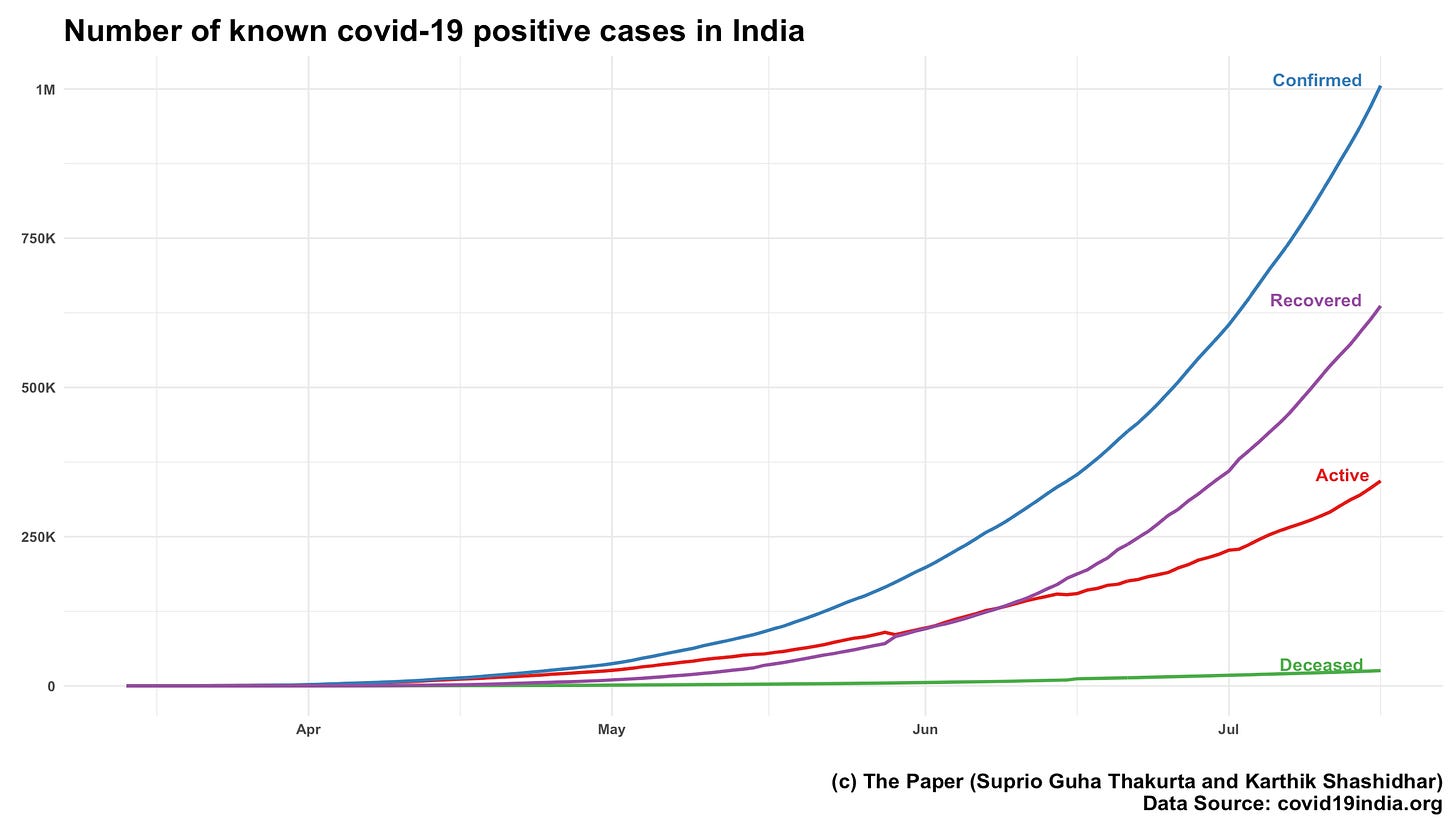 While the number of known cases continues to increase at a rate that we expect the number of total known cases to double every 20 days. This means, unless we take any drastic measures, we should be hitting 2 million cases by the first week of August.
Like with anything else, using aggregate number for a large country like India doesn't make much sense. Looking only at the four of the largest cities in India, we find that they are at different points in terms of their trajectory of how the disease has spread.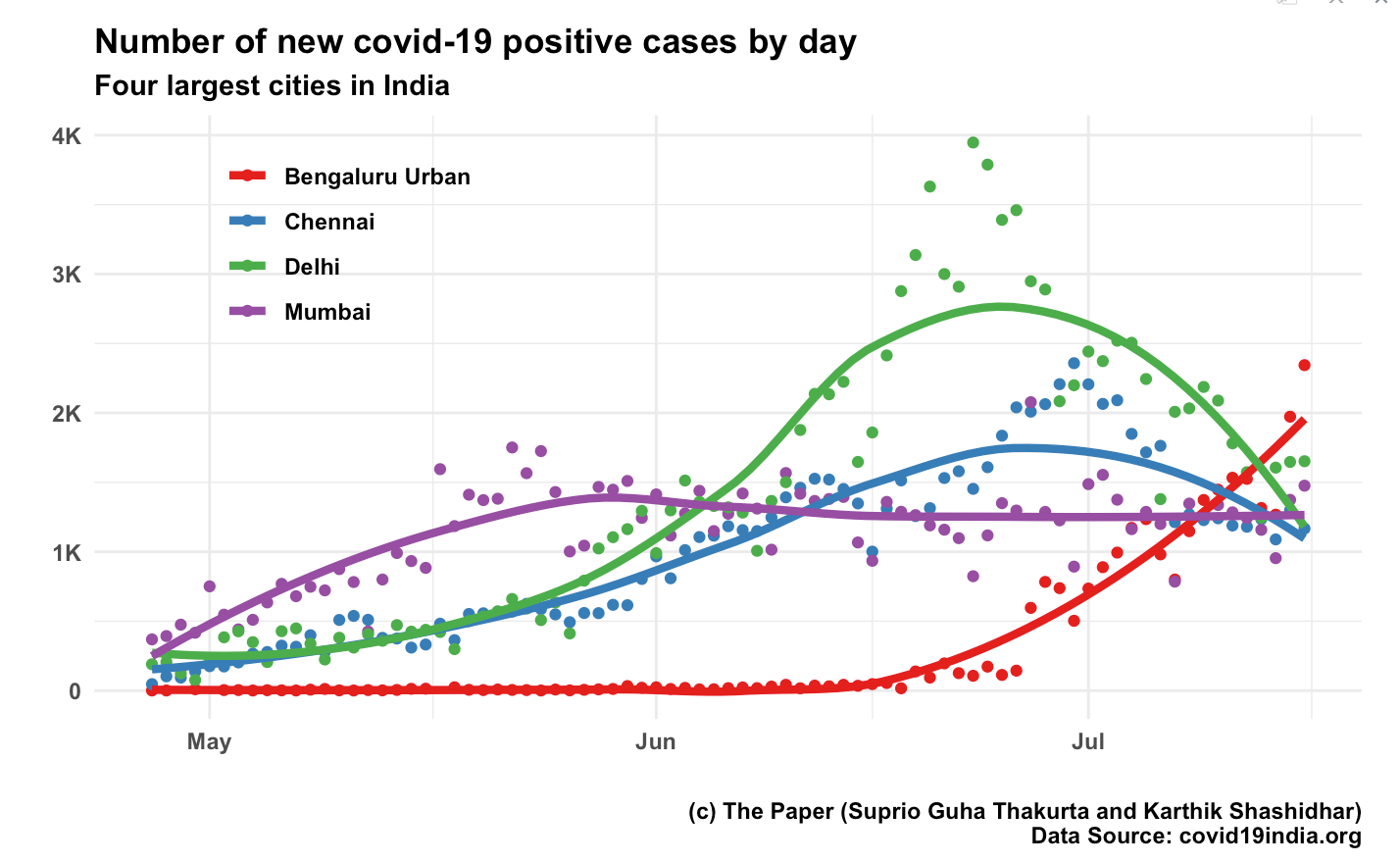 Mumbai was the first city to be hit hard, peaking in late May. However, the number of cases per day has held steady since then. Delhi and Chennai peaked in mid and late June respectively, and they seem to be on a downward trajectory in terms of the number of known cases. Bangalore, which had done rather well in containing the disease until mid-June, exploded once India started "unlocking" and inter-state borders were opened.
As we write this, Bangalore is in the middle of a week-long lockdown (at a time when the rest of the country is under "unlock 2"). Pune is also under lockdown after a temporary spurt in cases. We wrote last week that with "unlock 2.0" now in progress, there are some signs of green shoots in the economy. However, the disease not being in control means that different parts of the country keep going under temporary local lockdowns.
That is playing havoc with supply chains. This piece in the Economic Times gives a good summary in terms of what is happening.
Economists said the pent-up demand due to the lockdown that gave a boost to the economy in June may not be sustained and the disease will need to be brought under control to get the economy back on track. 

The Nomura India Business Resumption Index (NIBRI), a weekly measure, fell to 66.8 for the seven days ended July 12 from 69.3 on July 5 and 70.5 at the end of June. 
The entire article is worth reading.
Temporary and permanent impact
Assuming that the pandemic will be behind us soon (or that we will learn to start living with it), the pandemic will impact businesses in two ways. First is what can be called "temporary impact". This is due to temporary closure of businesses, either voluntarily or government-mandated. By definition, a closed business cannot transact, and so transacted value falls.
This explains why the automobile industry had a bad April-June quarter. This also explains why unemployment levels shot up in May. The government's tax revenues in these months were also low thanks to the closures.
Once the pandemic is behind us, we can expect businesses to reopen and this impact is likely to be completely reversed (hence "temporary impact").
However, what large external shocks such as the pandemic can do is to fundamentally change the way we live. Thanks to fear of the pandemic, people will reduce their presence in closed spaces that is not their home. Risk preferences on many dimensions can change. People will be more circumspect about physical proximity with others. They will wear masks.
While it is possible to make a laundry list of how the world is going to change thanks to the pandemic, the pandemic has been with us long enough now for us to actually see some impact of this.
Makaan, Roti, …
The real estate sector has already started seeing an impact thanks to the pandemic. As companies have started getting used to remote work that the pandemic forced upon them, they are cutting down their use of office space. Interestingly, banks are among the institutions looking to cut real estate expenses.
Housing Development Finance Corp. Ltd (HDFC), India's top mortgage lender, has asked regional managers to renegotiate rental contracts with their respective landlords, said a person familiar with the matter, requesting anonymity.

Separately, IndusInd Bank Ltd decided last week to give up one of its leased office spaces in a prominent commercial building in central Mumbai, said an official at the private lender, also seeking anonymity. The bank is looking to bring down lease rentals across offices by 25-30%, he added.
Technology startups have also started vacating rental real estate as more workers are expected to work remotely.
Softbank-backed insurance unicorn PolicyBazaar has given up four of its 12 office buildings in Gurugram, after the lockdown, as it has seen business lines like lending registering a steep drop in demand.

"We have also considered reducing our real estate footprint and have not opened our offices since the first lockdown. We expect to operate from home for the next few months, and have let go of one of our five rented satellite offices," said Upasana Taku, co-founder of MobiKwik, a digital payment startup.
And co-working spaces are also likely to get affected negatively.
Sampad Swain, co-founder and CEO of Instamojo, a technology platform for small businesses, said it has given up 30 seats in a co-working facility in Gurugram.

Edtech startup upGrad too has let go of multiple co-working spaces across six cities.

Rishi Das, co-founder and CEO of IndiQube, a co-working operator, which has several startups as clients said that most of them want to reduce real estate costs and are giving up a portion of their seats, due to WFH and a downsizing of workforce, in some cases.
If fewer people are going to work from offices on a regular basis, we should also see a reduction in demand for office-auxiliary services such as catering, transport and housekeeping. However, increased working from home means that people will want more comfortable spaces to work from. And this means people will want larger homes. The trend has already begun in Bangalore.
"We are witnessing an increased interest for larger homes, given that people now want to accommodate a dedicated study / office space within their homes. We are also seeing renewed interest in villas from buyers," said Kishore Jain - President, CREDAI Bengaluru. 
Another "permanent impact" that the pandemic is likely to have is in the way people eat. In-home dining and ready-to-cook food sales are up.
In the three months to end-June, fresh packaged food brand iD Fresh Food has seen paratha sales rise by 60% compared with the previous quarter, while meat products and seafood brand Licious has seen a more than 300% jump in sale of ready-to-eat meat spreads, a two-fold increase sale of ready-to-cook kebabs, marinated meat and seafood. 
(The iD paratha, you may recall, was embroiled in a bizarre taxation case where the taxman ruled that "paratha is not roti")
As a corollary, restaurants are struggling. While dine-in has been permitted in most of India since June 8th (barring local lockdowns), restaurants are seeing a massive drop in footfalls, and some have closed again on account of that. We might still be in "temporary impact" territory on this one, but a restaurant body has claimed that "30% of the industry could shut down permanently if the situation doesn't improve". That would be a massive permanent impact.
The pandemic is also changing how people buy. A McKinsey survey shows that people are buying more online, and that this impact may continue even after the crisis is over ('permanent impact'). Strained income also means that people are spending a larger proportion of their spending on essentials. This article in the Indian Express summarises the McKinsey survey and also reports by other major consulting firms.
"Some of the consumer behaviour shifts include – rise in self-reliant 'do it yourself' values, increase in consumption of health and fitness supplements, community purchases through apps/websites, increased use of 'super apps' for shopping due to convenience, etc. It's difficult to be sure of the degree to which consumer behaviour will permanently change," Harsha Razdan, partner and head, consumer markets and internet business, KPMG in India, told The Indian Express.
Again it is not clear how much of this impact is going to be permanent.
Elsewhere
Meanwhile, some sectors are likely to see a positive "permanent impact" thanks to the crisis. Education technology ("EdTech"), which we wrote about last month, is one. Online tutoring company Vedantu has raised a $100 million investment round that has doubled its valuation.
The bad loan problem, which Indian banks were just about recovering from when the pandemic hit, is likely to crop up again. Thanks to the government-mandated moratorium on loan repayments until August 31st, such loans are yet to come into light.
Mint has a nice set of graphics on how India got to the 1 million case mark. The graphics are from HowIndiaLives.
A study by Statista showed that 40% of households in India reported a drop in household income in April. Even if the incomes start flowing again (many of them won't), some permanent damage will have been done.