Are the shoots really green?
The union government is talking about the economy recovering post the pandemic
Readers of The Paper are likely to be familiar with US Non-Farm Payrolls, and what has happened to them over the last two months. Just to refresh your memory, the number of people employed in non-farm jobs in the United States dropped by 21 Million in April, and went up by 2.5 Million in May.
Rather ingeniously, CNBC had represented the data like this: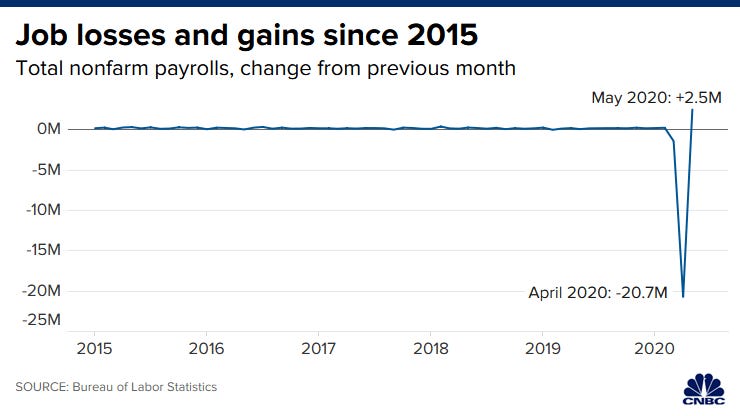 They weren't alone. Bloomberg also used a similar graph to represent the data.
Now, data collection in India isn't as robust, so we don't have such clean graphs. Instead of the government, we have independent bodies such as the Centre for Monitoring Indian Economy (CMIE) who, through periodic household surveys, try to assess the unemployment rate in the country.
Going by their data, this is what the unemployment rate in India looks like.

After hitting a peak of over 25% in mid-April to early-May period, unemployment in India has dropped to a relatively better level of about 8.5%, going by CMIE's surveys.
While this might be good news, it is a bit puzzling. The covid-19 crisis and the associated lockdown has meant that millions of people have moved back from Indian cities to their native villages. In fact, the dominant story of India during a large part of the lockdown was about the struggles of migrant labourers trying to return home. Assuming that they moved to cities in the first place in order to find employment, one might wonder how they're getting profitably re-employed after returning to their villages.
Once again, CMIE offers us the answer - it has to do with MGNREGA, the Indian government's rural job scheme. (their website isn't great, so this screenshot is a bit messy, but it provides the message)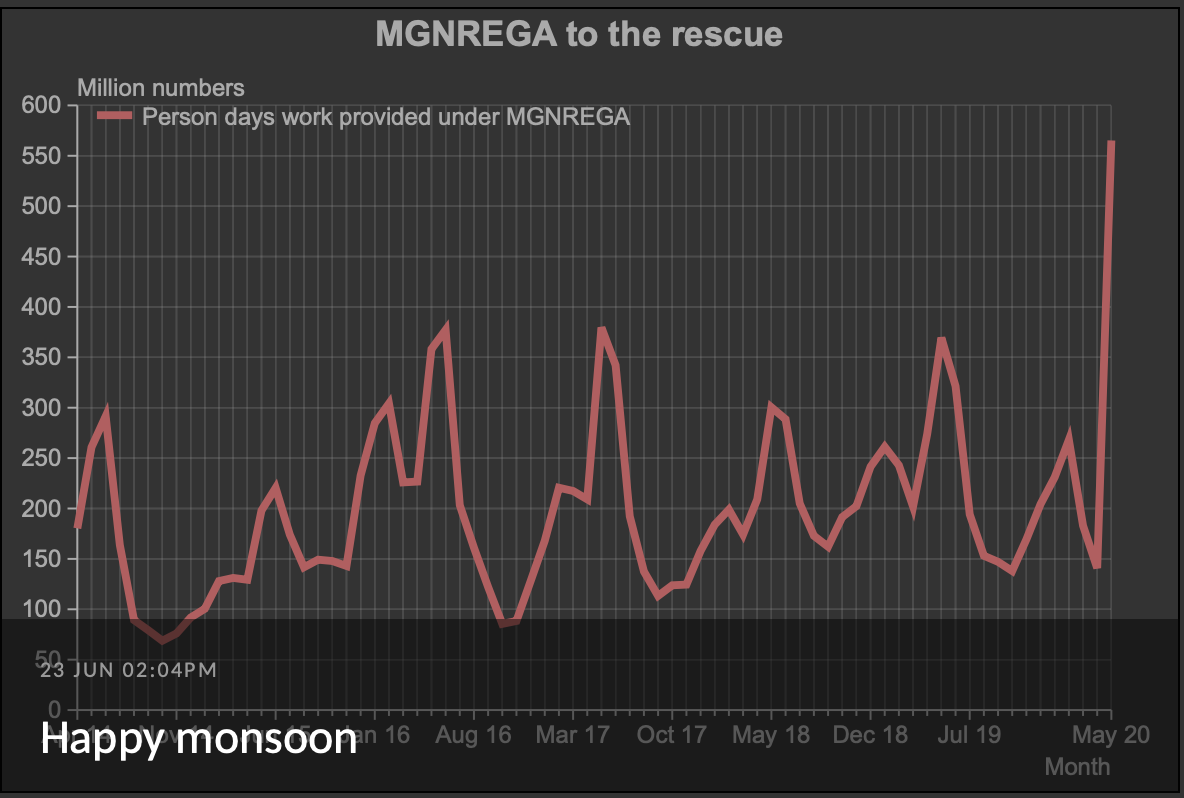 Essentially, a lot of the workers returning to their villages are effectively under government dole, and thus "employed". It remains to be seen how long this sustains.
Nevertheless, the Indian government has been quick to announce that there are "green shoots" in the economy after it was devastated by the lockdown in April.
That there has been at least a marginal revival in the economy following the lows of April is clear, since the country has opened up significantly since then (India is currently in a phase titled "Unlock 1.0"). One data point here is electricity consumption. After being down 24% (YoY) in April, it's only been down 6% last week.
So how are companies reacting to these "green shoots"?
Maruti Suzuki, India's largest automobile brand, is planning to ramp up production in response, though it will be far below the pre-pandemic levels.
India's largest carmaker expects to produce more than 100,000 vehicles each month, starting July, sharply higher than the 3,714 vehicles it produced in May when businesses were inching back to normalcy from one of the world's severest lockdowns.

In May, Maruti first reopened its plants in Haryana and Gujarat, and this month, it is likely to produce 30,000 - 40,000 vehicles there, said one of the people cited above. The Suzuki Motor Corp. unit rolled out 140,000-150,000 vehicles each month before the coronavirus pandemic struck and the subsequent lockdown.
The May numbers should be taken with a bucket of salt since that was when businesses were allowed to open, and well below capacity. So the low production then might have been a function of supply rather than demand. Yet, it is telling that Maruti's expected production (100,000 units a month) is only going to be two-thirds of the production before the crisis. And remember that India's automobile industry has been in the doldrums for a few years now.
Elsewhere, at Unilever (India's largest consumer goods company), production levels are up to "80-90% of normative levels".
For HUL, India's largest packaged consumer goods company, production has increased with the easing of curbs by the government since the lockdown was first imposed. "From a virtual standstill when the lockdown was announced, we have now been able to ramp up our production to 80-90% of normative levels," [CMD Sanjiv Mehta] said.

On-ground, though, it is hard to measure consumer demand as companies focus on resuming supply lines. Market researcher Nielsen last month cut its growth forecast for the FMCG sector to 5-6% for this fiscal from its earlier projection of 9-10%.
From this pair of stories, what is clear is that while demand has started returning on account of opening up, the levels are likely to remain muted compared to pre-pandemic levels.
Credit rating agency Moody's has forecast that India's GDP growth rate for the April 2020-March 2021 financial year will be "Zero". The Reserve Bank of India (RBI, India's central bank) has said that the GDP growth rate will actually be negative. Based on the evidence from some of India's largest consumer goods companies above, there is no reason to doubt that. Also, we are already through one quarter of the financial year.
Speaking of the RBI, the monetary policy committee hasn't been able to agree on how quickly India's demand will recover after the crisis is over.
Differences over the growth potential, demand and inflation led to a dissent vote in the quantum of interest rate cut in the last Monetary Policy Committee meet as economist Chetan Ghate factors in a quick revival of demand while deputy governor Michael Patra believes it may take `years to repair' the damage caused by Covid-19. 
We should note that Patra, who was a member of the Monetary Policy Committee even before he became deputy governor of the RBI, was traditionally known for his rather hawkish stance when it comes to policy rates, though in recent times he has voted in favour of rate cuts. If he believes that demand will take "years to repair", we know we are in for a tough time.
Also Read
These two editorials by Mint, India's second largest business newspaper.
One rightly warns that the government should not become complacent in light of the "green shoots".
With widespread job losses and salary cuts, income anxiety has rarely been so severe. Households now seem to be in cash-conserving mode, even as other economic agents seek to keep their expense down. Confidence levels remain very low. All this may mean that the corona-induced wave of demand destruction across the economy has yet to subside.

[…]

Green shoots have helped lift some gloom, but a revival will be a long haul. The government has plenty to do.
The other talks about what the government needs to do to stimulate the economy as it opens up.
One other thing crises do is to expand some sectors as others contract. This implies scope for massive re-skilling among sections of the workforce. This long article, also in Mint, talks about where the new jobs are getting created.
While many of the low-skilled positions are mostly replacement hiring, there is some new demand in the white-collar space. Home healthcare jobs are seeing a spike and so are those related to online education. At the tip of the pyramid, software and hardware jobs are making a comeback after a brief lull. Companies now have a distributed network of employees—at home and in office—which is fuelling a need for more cyber security-related roles.
Read the whole thing.