The Taxman Cometh, for digital services
The philosophical question we address today has to do with the nationality of a commercial transaction, or at least its tax residency
Here is some music for you to listen to while you read today's edition. Please click on the link below (which will open Youtube), start the video and then return to your mailbox to read the newsletter.
Last Monday, Google announced that it would be investing $10 billion into India to "help accelerate India's digital economy". On Tuesday, it was rumoured that 40% of this money would go into Jio Platforms, which is now a platform for private equity and tech firms. On Wednesday, it was formally announced that Google was formally investing $4.5 billion into Jio Platforms.
In the middle of all this, Google CEO Sundar Pichai and Indian Prime Minister Narendra Modi spoke over video chat. They tweeted nice things to each other, including nice photos of each other. Based on this, you might conclude that all is well between Google and India.
It isn't.
The question, basically, depends on the nationality of a transaction. Maybe we will be able to define it more precisely as the "tax residency" of a transaction. If you remember, Vodafone bought two-thirds of what was then Hutchison-Essar from Hutchison in a transaction registered in the Cayman Islands. You can think of it as a British company buying something from a Hong Kong company in an international tax haven.
Yet, India decided that since the thing being traded was a stake in a company registered in India, the transaction could be taxed in India. And duly slapped Capital Gains Tax. And changed laws so that this tax demand become retrospectively legitimate. That case continues.
While there is no capital gains tax involved here, the case of the so-called "Google Tax" has to do with tax residency of transactions. You are an Indian company that wants to show an advertisement to an Indian. The sites your target Indian browses have outsourced their advertising to a foreign company that has no presence in India. So you, an Indian company, pay a foreign company with no presence in India, to show an advertisement to an Indian.
One way to look at it is that source and target of the advertisement in question are Indian, so the transaction needs an Indian passport (or at least a PAN), and needs to pay tax to the Indian government. However, with the entity that collects the money being an entity with no presence in India, things get complicated. So India imposes an "equalisation levy" (don't we all love legalese? Or bureaucratese?).
For "global reasons" (we will come to them in a bit) this "equalisation levy" has come to be called the "Google Tax". India already had an equalisation levy of 6% of revenues (it is always tricky when taxes are defined on revenues, given they're traditionally levied on profits) for companies with a physical presence in India.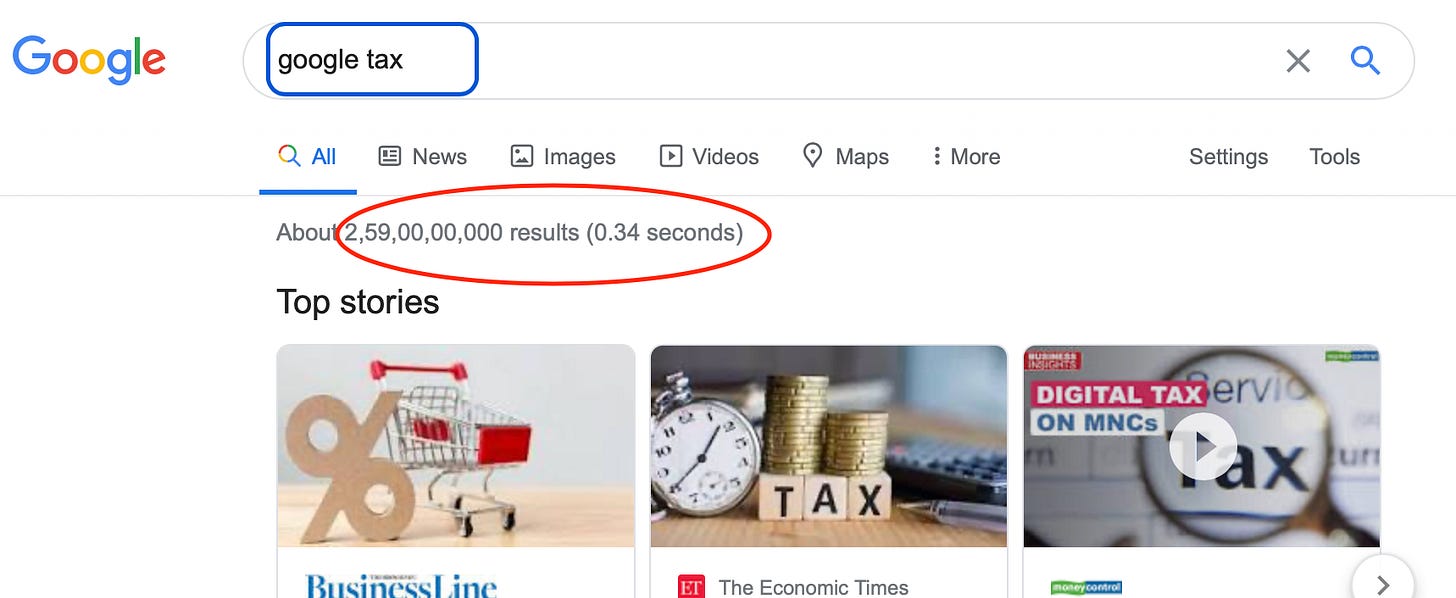 The new amendment, effective April 1st this year, defines a "significant economic presence" for companies even if they don't have a physical entity in India.
Advertisement which targets a customer residing in India or who accesses advertisement through internet protocol (IP) address located in India.

Sale of data collected from a person residing in India or who uses an IP address located in India.

Sale of goods/services using data collected from a person residing in India or who uses IP address located in India.
The use of "IP address located in India" is rather interesting, since it, in a way, draws national boundaries on the supposedly borderless internet (well, China made a mockery of that a long time ago).
In any case, the original 6% tax on companies with a physical presence in India has already garnered ₹2600 crore (₹26 billion, or about $330 million) for the Indian government. The additional 2% tax on companies without a physical presence in India is likely to add to this.
The US, of course, is not happy with this change.
The US had last month decided to start an investigation under Section 301 of the Trade Act, 1974, into the digital services taxes that have been adopted or are being considered by a number of countries, including India, to "unfairly" target American tech companies. 

It had then invited public comments on the said investigation. 

India is among 10 nations that are facing US investigations to assess whether the levies discriminate against American technology majors. 
India, on its part, has said that this tax is "non-discriminatory" since it is applicable on all foreign companies that satisfy the given criteria. It just so happens that the companies that are affected by this tax happen to be mainly American.
In any case, some companies have already started paying this new tax, and the Indian Finance Ministry has categorically stated it will not "provide an FAQ".
"Is there a need? The law is very clear," a senior Finance Ministry official told BusinessLine.
In any case, a lobby group representing large American technology companies has said that the companies are "not ready to pay the tax".
One category of institutions who had possibly not reckoned that they would have to pay "India's digital tax" were American universities. However, now that they are providing online classes to Indians (among others) thanks to the covid-19 crisis, they come under the definition of having a "significant economic presence" in India.
---
India is not the first country to have pursued a digital tax on foreign companies without a physical presence in the country. Several countries in Europe, led by France, have already implemented a Digital Service Tax. The US has already retaliated against France by imposing additional duties on French soaps and handbags sold in the US.
India is currently in the middle of trade negotiations with the US. India is trying to get concessions for its generic pharmaceutical drugs to the American markets, trying to trade it with opening up of Indian dairy and farm markets to American companies. It remains to be seen if India's freshly imposed digital tax might derail these negotiations.
An opinion piece in Fortune claims that the imposition of digital taxes by various countries "signals the end of multilateralism". Harvard Business Review, expectedly, has argued against France's digital tax. It is interesting that these taxes have come right around the time when countries are already looking to "get fat" (as we wrote in yesterday's edition).
Large tech companies that have been affected by these taxes already have sophisticated legal enterprises that have helped them reduce their tax burdens over the years. In fact, Apple has won a tax case in Ireland, that had to do with its international financial engineering, which makes a bearish case for digital taxes in general.
By now, the song should have finished, unless you put it on loop. If you were engrossed in this newsletter and didn't pay attention to the lyrics, this is what The Beatles sang:
If you drive a car, I'll tax the street
If you try to sit, I'll tax your seat
If you get too cold, I'll tax the heat
If you take a walk, I'll tax your feet
Now it seems like governments in India (and France and Italy and … ) are going to be able to tax you even if you never set foot in their lands.