The great India media sackings
With advertising revenues down thanks to the Covid-19 crisis, Indian media organisations have resorted to deep cuts in manpower.
This seems to be becoming a recurring theme of this newsletter - that making money and being successful are two different things, especially when we are talking about the media business. However, till date, SoftBank hasn't really funded any media companies, so at some point or the other, they need to make some money in order to be successful.
There are two ways to do this - sell your audience or sell to your audience. Cutting the wordplay, these refer to advertising and subscriptions respectively (everything else: events, content syndication, affiliate etc are either extensions of one of these or just too tiny to be material). 
This paragraph from a recent Medium post by Cyril Sam, a journalist who is keenly interested in the newspaper industry, should be sufficient to tell you which of these paths Indian media has pursued over the years.
"There was a time when being a newspaper vendor was exciting. There was money in it. Now, there is no money. Newspapers have become thinner. And the price of scrap paper has dropped 50%. Earlier, we used to supplement our income by picking up extra copies and selling them as scrap. That is no longer viable," the vendor told me.
The same article has this quote from a book by Vanita Kohli Khandekar, who covers the media and entertainment industry for the Business Standard:
In mature markets, newspapers are priced because companies make money on them. In India, they are priced so the distribution system is incentivised. […]To show increased circulation, many newspapers cut prices. This created a situation where hawkers kept taking additional copies because they could make more money by selling them instead as raddi (recycled paper) to the consumer. So even when the newspaper was not being read, it showed circulation increases. 
The Second Law of Thermodynamics tells us that perpetual motion machines don't exist.
An article in The Print, an online newspaper that solicits donations in the middle of its articles, nicely summarises Indian newspapers' business model, and why the pandemic has led to a severe crisis in the industry.
A long newspaper, like TheTimes of India, has 48 pages. The newspaper is sold for around Rs 5 and about 40 per cent is taken by distributors. The media organisation gets around Rs 2.40. Now each page costs Rs 0.25 to print and printing 48 pages costs Rs 12. A very conservative cost of paying employees and news agencies etc is Rs 3.

So if newspapers are produced at Rs 15, how are they sold at Rs 5 and how is profit still generated? The answer is ad revenue. 
(The Print is not alone in soliciting donations. The Deccan Herald, a reputed paper based in Bangalore, has also taken to soliciting contributions from its readers.)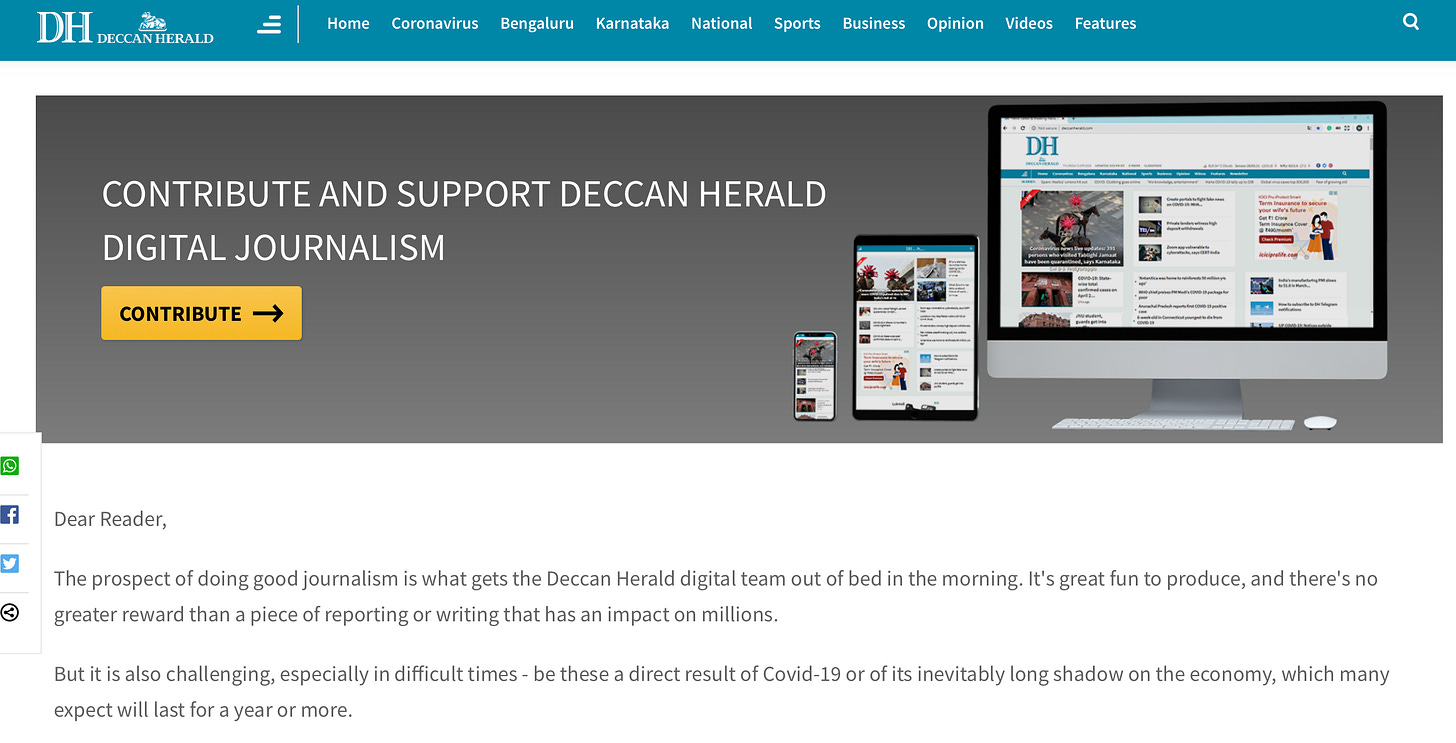 Online Aggregators
It has become fashionable in media circles to blame Facebook and Google for the plight of the media industry. The essential idea is that with the coming of the internet, costs of distribution went to nil, and what mattered was capturing customers' attention, rather than distribution.
Facebook and Google did a stellar job of that, and monetised this capture of attention by selling their own advertising. Facebook and Google did not, as some allege, take away the readers of news. Instead, they captured the most valuable currency for advertisers - readers' attention.
We will defer to this excellent piece by Ben Thompson (Stratechery) on how Facebook has remodelled the news industry.
A consistent theme on Stratechery is that perhaps the most important consequence of the Internet, at least from a business perspective, was the reduction of the cost of distribution to effectively zero.

The most obvious casualty has been text-based publications, and the reason should be clear: once newspapers and magazines lost their distribution-based monopoly on customer attention the integration of editorial and advertising fell apart. Advertisers could go directly to end users, first via ad networks and increasingly via Google and Facebook exclusively, while end users could avail themselves of any publication on the planet.

For Google and Facebook, the new integration is users and advertisers, and the new lock-in is attention; it is editorial that has nowhere else to go.
However, contrary to popular discourse, it didn't take the coming of Google and Facebook to damage the newspaper industry. At least in the US, the newspaper industry has been declining since the Second World War.
The Content Trap, a book written by Bharat Anand, a professor at Harvard Business School, has this graph that seems to suggest that newspapers have been in a secular decline in the US anyway, and Google and Facebook only contributed to an existing trend.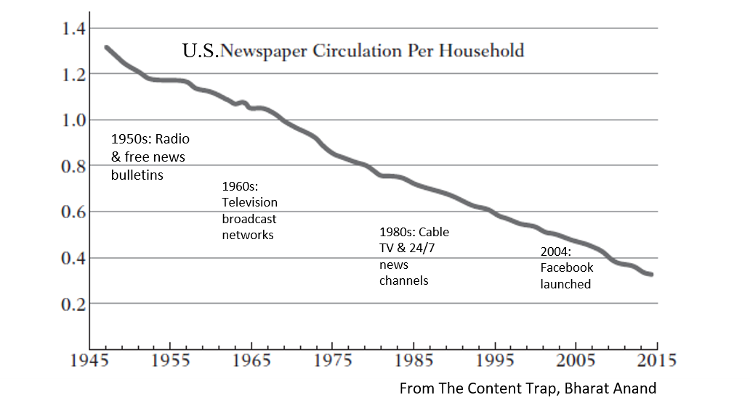 The great India media sackings
With the decline of the advertising model, including the rise of online aggregators such as Facebook and Google, there is only one real way left to make money if you are a publisher - sell content to your audience (the content you are currently reading will also be "sold" some day, rather than be given away. Yes, we plan to take The Paper behind a subscription paywall some day).
Which means the content needs to be of a quality that a reader, used to a deluge of free content, will happily pay for. Which means you need great journalists. Not average. Not just someone who can write decently. Great journalists. And you just sacked a truckload of them.
So many journalists and media people in India are getting the sack in the wake of the pandemic that the aforementioned journalist Cyril Sam has set up an online form to collect information about people being sacked. Sam has been summarising the results of his research in another Medium post, which continues to be a "live article" (does this not make you wonder why Indian newspapers don't really do too many "live articles"?).
It is a rather long list of people being sacked and editions being cut. For example, the Business Standard, which both of us read, has done away with its (hitherto excellent) Saturday supplement, and the entire Sunday edition. These are not token sackings to cut costs marginally. Entire teams are being cut, and some newspapers are sacking enough people to lead to social media campaigns.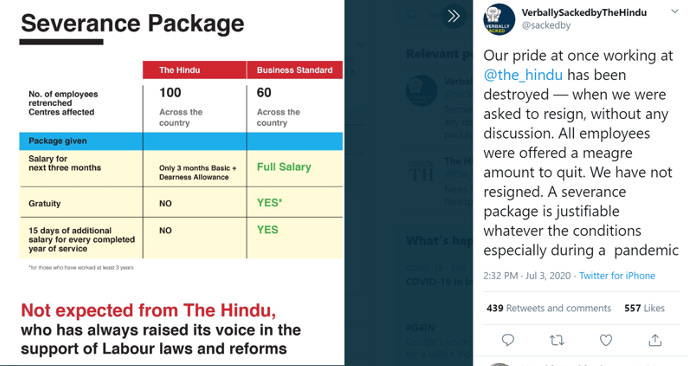 The Hindu, a paper usually sympathetic to labour causes, has laid off 100 journalists across the country. Some of them have got together to form a "sacked by The Hindu" twitter account to draw attention to their sacking.
While journalists and others at English newspapers such as The Hindu, The Hindustan Times and The Business Standard have been affected by the layoffs, it appears that people working at regional language newspapers are far worse off, as this article in the Huffington Post describes. It is common for journalists to not have formal contracts, and work on the basis of informal word of mouth.
"The only proof I could give you that I was an employee of the Lokmat group is the bank statement which says that I received my monthly salary from them every month. That's it. No contract, no id card, no EPF and I kept on doing my job because Lokmat is reputed and rich publication but I never thought they would dump me when I needed this job the most," she said. At the time of her termination, she said, she was earning less than Rs 15,000 per month despite almost a decade at the organisation. 

Another laid-off Lokmat journalist said even those who had signed proper contracts with the newspaper could do nothing.
India actually has an act of parliament (Working Journalists Act) that seeks to protect the rights of journalists. However, like several other labour-related laws in India, the provisions of the act are so draconian (journalists cannot be fired until they are 58 years old, for example) that news organisations, in the 1980s, started sidestepping the act wholesale by having all their journalists on contract.
The bloodbath is expected to continue, as the business environment in India continues to remain uncertain (notwithstanding any green shoots). In someways, we can think of advertising-supported media as another form of leverage. And when advertising drops, the impact on the organisation is outsized.
It remains to be seen if whatever remains of Indian media reforms itself around a subscription model. As for soliciting donations, it is unlikely that they will be sustainable.