Not just another brick in the wall: Education Policy II
We continue where we left off on Monday to analyse India's new National Education Policy
Any article worth its salt about the recent history of India is likely to talk about the 1991 liberalisation. Until then, the Indian economy was plagued by the "license quota raj", as industry was tightly controlled and licensed and production was limited by quotas (it would take five years to get a telephone connection, for example).
In 1991, following a forex reserves crisis, India opened up its economy. The tight fist of government control over the economy was eased. Quotas were abolished. Duties were slashed. Private participation was allowed into many hitherto nationalised industries.
The economy changed. The country changed. People's attitudes changed. Everything changed. However, our education system did not change. Until now, that is.
The official take
Earlier this week, we had written about India's new National Education Policy (NEP) that was released last week, and had mentioned that one edition would not be sufficient to cover it. This is the other edition.
To start with, here is the official policy document. However, since you are unlikely to read the policy document carefully, we highly recommend that you go through this article in Outlook. It exhaustively lists out all the key features of the NEP.
Now for the official takes. First up is Amitabh Kant, CEO of the Niti Aayog, the Union Government's think tank. Writing in the Indian Express, he makes seven key points about the NEP, and what it aims to achieve:
Focus on universalising access from early childhood to higher education

Erasing traditional silos in workflows, early childhood care and education will be delivered through a new curriculum 

Departure from archaic practices and pedagogy 

A comprehensive system for regular, credible and comparable assessments of learning outcomes 

Teacher education is reimagined with a comprehensive curricular framework

The creation of an academic credit bank, the impetus to research 

Overhaul of the governance architecture from one based on overregulation and complex and disparate norms to a simplified and cogent structure
Rajendra Pratap Gupta, who was part of the committee that drafted the NEP emphasises on how the NEP tries to "de-silo education" and to improve flexibility on several counts.
Ramesh Pokhriyal "Nishank", the Union Education Minister, has said that the NEP will focus on "critical thinking and creativity". He told the Hindustan Times:
With the NEP 2020 coming into effect, we are hoping to transform education and putting a significant thrust on learning about how to think critically and solve problems, how to be creative and multidisciplinary, and how to innovate, adapt, and absorb new material in novel and changing fields. 
And what does the opposition say? Shashi Tharoor, an opposition MP and former Under-Secretary General of the United Nations, has said that there is "much to admire" in the policy, while also pointing out its challenges.
"The NEP should have offered more tangible&realisable targets for research. Total investment on research& innovation in India declined from 0.84% of GDP in 2008 to 0.6% in 2018. There are currently only 15 researchers in India per 100,000 of population, compared with 111 in China," Tharoor said.

"Overall, my worry is the NEP showcases a strong tendency towards centralisation, high aspiration w/low feasibility, & an unspoken assumption that much of the challenge will be met by the private sector, which will drive up costs & make many opportunities unaffordable for the poor," Tharoor added.
Credits and Exits
In the first edition of our commentary on this policy, we saw that the old 10+2 framework has been replaced by a new 5-3-3-4 framework, that brings pre-school into the formal education framework. A report by the Central Square Foundation has this nice representation of the reforms in school education.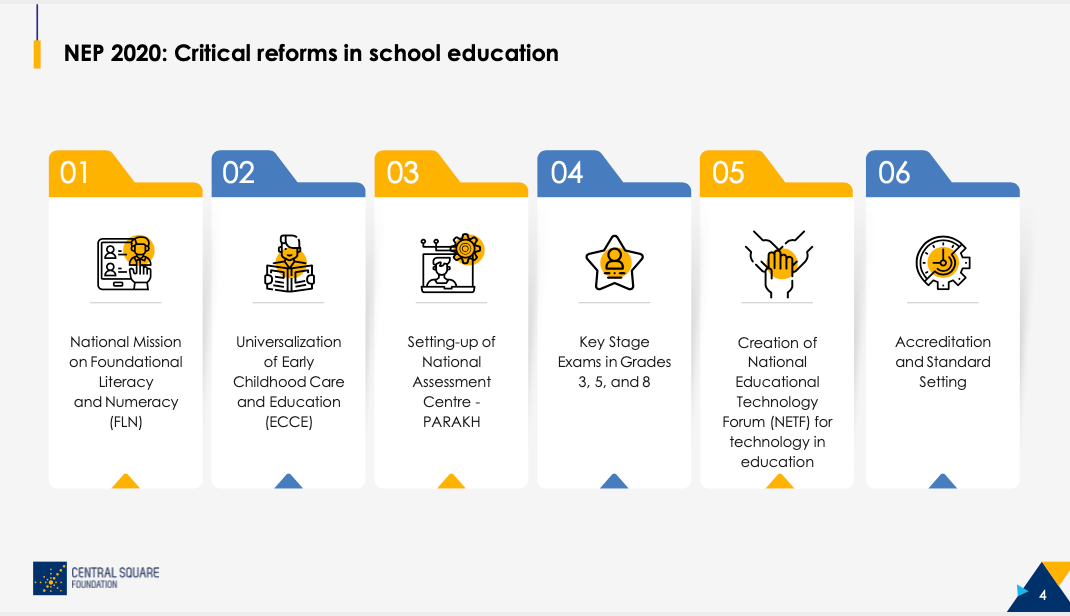 Source: Central Square Foundation
However, the policy change is not limited to schooling - the most interesting of the other changes is the increased flexibility in higher education.
While most undergraduate programs will now be four years long (traditionally in India, "non-professional" undergrads have been three year courses), students get an opportunity to exit the program at any stage, with different levels of certification.
If a student exits the programme after Year 1: they will receive a vocational certificate; Year 2: an Advanced Diploma; Year 3: Bachelor's degree; Year 4: Bachelor's degree with research.

Students can resume the course after a specified period prescribed by the Higher Education Commission

After a four-year degree programme, a student can directly do a year of Masters degree and then proceed for the PhD programme. The MPhil programme is being discontinued.
There are more changes, all very well documented in this article in The Better India. Colleges will be made multidisciplinary. University affiliation will go and colleges can hand out degrees (like in the US). There will be a single regulator for all higher education. And then there will be "academic credit banks", that will allow students to take a break in the middle of their programs and transfer credits across programs. (here is a good introduction to the credit system and credit transfer programs).
Another stated aim of the NEP is to increase Gross Enrolment Ratio (GER) into higher education from the current ~26% to 50% (by 2025). In other words, the policy wants every other student in India to go to college.
This article in Factly has a nice set of graphs about historical GER in India. It has gone up from 24.3% in 2014-15 to 26.3% in 2018-19. The NEP wants to push this to 50% in the next six years. This can certainly be a challenge, though the multiple exit points from colleges and credit banks (if implemented early enough) can give students a greater incentive to go to college.
Source: Factly
Wherever Possible
The part of the NEP that has possibly caused the most controversy is the part that is introduced with the title of "multilingualism and the power of knowledge". The policy document says:
However, at times in multi-lingual families, there can be a home language spoken by other family members which may sometimes be different from mother tongue or local language. Wherever possible, the medium of instruction until at least Grade 5, but preferably till Grade 8 and beyond, will be the home language/mother tongue/local language/regional language. 
It is not clear what "wherever possible" means. Critics of the policy are pointing out that in a misguided attempt at nationalism, students will be forced to learn in their mother tongue or local language mediums until grade 5 or 8, and that they will be denied the privilege of studying in English. This, they say, will increase the inequalities caused by the medium of instruction.
The Hindustan Times has some interesting graphics on the inequalities of education in India. For one, students from top quintile (by consumption) families are 10 times more likely to study in English medium schools than those from bottom quintile families.
And in India, the demand for English medium education is real. Shekhar Gupta, formerly the editor of the Indian Express and now the co-founder and editor-in-chief of The Print, writes:
And since we live by the three-example rule, I will give you one more and then rest my case. Especially as our three examples would be all from different parties and ideologies. Yogi Adityanath in Uttar Pradesh passed orders in 2017 to turn 5,000 (yes, 5,000) government primary schools into English medium, so his state could have at least one in each block. Is Yogi elite? English-obsessed? Westernised? A brown sahib?

He is, on the other hand, a saffron-clad priest. But he is dharti se juda hua. He knows what his voters want. That is the wall this NEP will run into if ideology drives this government to push that native language-medium idea too strongly.
On the other hand, Education Minister Nishank emphasises on the "wherever possible" bit.
However, there will be a greater flexibility in the three-language formula, and no language will be imposed on any state. The three languages learned by children will be the choices of states, regions, and of course the students themselves, so long as at least two of them are native to India.

Nowhere the policy talks about shedding the English language; instead it emphasizes on the importance of multilingualism which has great cognitive benefit for young children.
After all they say that in politics, nothing is impossible!
Outside The Wall
Shekhar Gupta also has a video where he dissects the NEP. In that he is largely positive about the policy, except for the bit that continues to keep education "not for profit". We agree with him on this, as this can only lead to corruption (since entrepreneurs will look to "profit" from other means), and deter international universities from setting up shop in India.
As a tangent, we recommend this article by Nitin Pai, where he talks about how Gandhi's agenda of (liquor) prohibition created Dawood Ibrahim.
In Dongri to Dubai, a gripping account of the Mumbai underworld, Hussain Zaidi writes, "With such imposition in place, the mafia had a brilliant opportunity to increase their profits-provide the illegal goods not available to interested customers at exorbitant prices. This was the time when [Shaikh Mohammed Al] Ghalib and [Haji] Mastan came into their full form. Within months of the imposition, they started raking in money....the ban, especially of liquor, only provided licence to a growing illicit liquor trade. This trade required brawn and this proved to be the first turning point in the life of Varadarajan Mudaliar."

Once they established themselves, the organised crime syndicates of Mumbai expanded into other areas, creating a number of gang leaders, including in the 1980s, a young man called Dawood Ibrahim. 
This is a different sector but the same principles apply.
Finally, we leave you with PRS Legislative Research's report on the NEP. As we have come to expect from them, the report is rather comprehensive and easy to understand.