Inverting the Pyramid
The National Education Policy (NEP) 2020 was released on July 30, 2020, replacing the earlier one after 34 years. We look at the changes and the opportunities that they present.
In football (the version played without helmets), the formation of the ten players in front of the goalkeeper is perhaps the most strategic decision the manager makes.
In the first International football match between Scotland and England in 1872, the English team lined up as 1-2-7, a classic pyramid, in front of the goalkeeper. One defender, two midfielders, seven attackers. It was all about scoring goals. Over time, teams lined up like this started losing with great frequency to teams who spread out their formations.
To cut a long story short, it is now acknowledged that the three areas; defence, midfield and attack; needs balance. A strong foundation (defence) is the starting point; the midfield plays the role of connecting the back to the front and is usually the driver of the game, falling back in defence and igniting the attack; the attackers have more liberty to be creative and interchange positions and move around to find the weakest points of the opponents' defence. The formations in favour now are the more equitable 4-2-3-1, or 4-4-2, or 4-3-3, or some variation of one of them. 
What we just described is the subject of one of the all-time great books on football, written by Jonathan Wilson.
5-3-3-4
On July 30, the National Education Policy (NEP) took the static 10+2 education formation and flipped it on its head. From a comprehensive Indian Express article:
In a significant shift from the 1986 policy, which pushed for a 10+2 structure of school education, the new NEP pitches for a "5+3+3+4" design corresponding to the age groups 3-8 years (foundational stage), 8-11 (preparatory), 11-14 (middle), and 14-18 (secondary). This brings early childhood education (also known as pre-school education for children of ages 3 to 5) under the ambit of formal schooling.
The 5-3-3-4 formation pays equal focus on building the foundation (defence), the middle and the final years with an especially important twist: there is a clear shift from rote learning to experiential. From inflexibility to the flexible. The policy acknowledges and builds on the understanding that there is more to learning than memorising and recanting multiplication tables.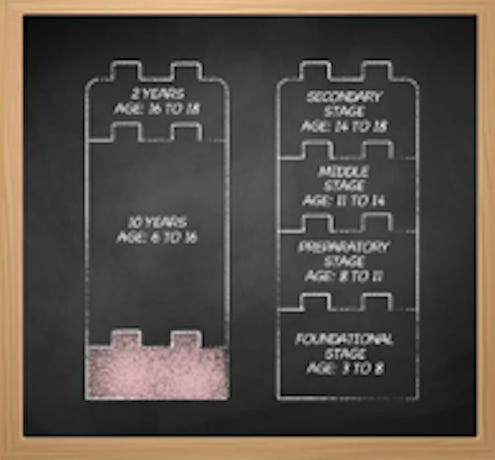 Who is going to deliver this new way of learning?
There is a smattering of International Baccalaureate (IB) schools in the metros that are adept at this but what about Bharat. Today pre-school (3-5 years) learning is delivered by a mixture of independent mom and pop shops, pre-primary sections of certain school and across India through the anganwadi (literally meaning courtyard shelter). Anganwadi Centres (AWC) were set up under the Integrated Child Development Scheme in 1975 with the goal of improving the nutrition, health and development of 0-6-year olds. 
From a QZ article
In 1975, the world didn't know very much about the importance of a child's early years, and India was ahead of the curve. "Way back before we started talking about [early childhood development] and [early childhood education]," says Arjan de Wagt, UNICEF India's cross-sectoral coordinator for early childhood development, "India was already setting up ICDS."
This is all particularly good but the fear is that the focus away from the rote will need new skills. A couple of clear opportunities seem to emerge: one, the fact that pre-school will now be a recognized part of schooling seems like a great entrepreneurial opportunity. We see a rush of schools called "<insert favourite animal> kids".
The other opportunity clearly is in teacher training.  Ability to teach without a guidebook will be a precious skill. We see a mushrooming of training centres popping up in every dark corner of Bharat. 
Moving up the formation
As one goes forward, we see the reduction of tests as a positive (in Stds 3, 5 & 8 only) and ties in with the experiential learning, away from the rote/test system. Up the field, we see flexibility. No longer will students be straightjacketed into streams. You can study Maths and History at the under-graduate level. This flexibility extends further. From a Firstpost article:
A student who completes four years of study in a course will receive a Bachelor's Degree with research, a Bachelor's Degree for three years of study, an Advanced Diploma for finishing two years and a Diploma for completing a year of study.

Students will also be able to avail of an Academic Bank of Credit (ABC) which will digitally store academic credits from different institutions so that these can be transferred and counted towards the final degree earned. This means they can also take a gap year or return to their studies after a few years.
We believe that the NEP has got the formation right for the times and the future. 
What are some of the other highlights of the policy?
From the Indian Express article mentioned earlier:
The NEP proposes sweeping changes including opening up of Indian higher education to foreign universities, dismantling of the UGC and the All India Council for Technical Education (AICTE), introduction of a four-year multidisciplinary undergraduate programme with multiple exit options, and discontinuation of the M Phil programme.
We might get to the other parts of the policy in another edition, but we thought today we would look at one more piece.
Opening up of higher education to foreign universities
In certain quarters there is a sense of anticipation that we will soon see Ivy (League colleges) clinging to Bharat's walls. The policy allows top ranking universities (we will have to see what "top ranking" here means) to set up campuses with policy and regulatory guidelines on par with autonomous institutions in India.
We very much doubt this will happen. A Harvard or a Stanford follows the rules of luxury goods. Exclusivity (and hence scarcity) is everything and the original campus is the temple that every aspiring student wants to study in and hence ante up upwards of 50,000 USD a year. What will happen is an acceleration of tie-ups and hopefully, in research. 
But aren't foreign universities feeling the pinch in this pandemic? Is not the forced online teaching shown them that they could multiply their student numbers by 10x. Surely, that is tempting? Even at a 25% discount on fees, that could be a huge chunk of change. What the pandemic is doing is showing parents what they get for their dollar. From an interview with Prof Scott Galloway in the New York Mag: 
In fact, the coronavirus is forcing people to take a hard look at that $51,000 tuition they're spending. Even wealthy people just can't swallow the jagged pill of tuition if it doesn't involve getting to send their kids away for four years. It's like, "Wait, my kid's going to be home most of the year? Staring at a computer screen?" There's this horrific awakening being delivered via Zoom of just how substandard and overpriced education is at every level.
So, what does Prof G (as he is fondly referred to) think will happen in the future? From the same interview:
Ultimately, universities are going to partner with companies to help them expand. I think that partnership will look something like MIT and Google partnering. Microsoft and Berkeley. Big-tech companies are about to enter education and health care in a big way..
And on whether they will be able to still charge in thousands of dollars:
Yeah, because they'll have some sort of hybrid model that will involve some in-person work. MIT's certification — and that education that it'll be able to string together using its faculty and its brand and the technology of a place like Google — will still be worth that kind of money. The reality is an MIT degree is still worth a quarter of a million dollars in tuition.
So, it is more than likely that big tech, to maintain its growth to keep its shareholders happy has to look at huge opportunities. Google's revenues in 2019 was $162 billion. To double that in five years, they must get into education. So does FB, Microsoft. 
Wait a minute. In which Indian company did Google and FB just put in $10.2 billion dollars between them? For good measure, that company also has an ongoing partnership with Microsoft.
We leave you with that as food for thought. Have a great week.