Crouching Tiger, ...
India bans 59 made-in-China apps. China is not happy. Neither are some Indians.
So it happened. It had been rumoured since the border clash between India and China two weeks back that India would retaliate by banning Chinese apps such as Tiktok. On Monday, the Indian government actually did it.
The Indian government on Monday evening said it was banning 59 apps developed by Chinese firms over concerns that these apps were engaging in activities that threatened "national security and defence of India, which ultimately impinges upon the sovereignty and integrity of India" in what is the latest standoff between the world's two most populated nations.

Among the apps that India's Ministry of Electronics and IT has ordered to ban include ByteDance's TikTok,  which counts India as its biggest overseas market; Community and Video Call apps from Xiaomi, which is the top smartphone vendor in India; two of Alibaba Group's apps (UC Browser and UC News); Shareit; CM Browser, Club Factory, which claims to be India's third-largest e-commerce firm; and ES File Explorer.
This comes after India decided to increase customs controls for goods coming in from China, in an effort to economically hurt the larger northern neighbour. The Department of Telecommunications issued an order to telecommunication and internet service providers to bar access to these apps. TikTok has been taken down from the search results of the Apple App Store and the Google Play Store, while some of the other 58 apps are still available.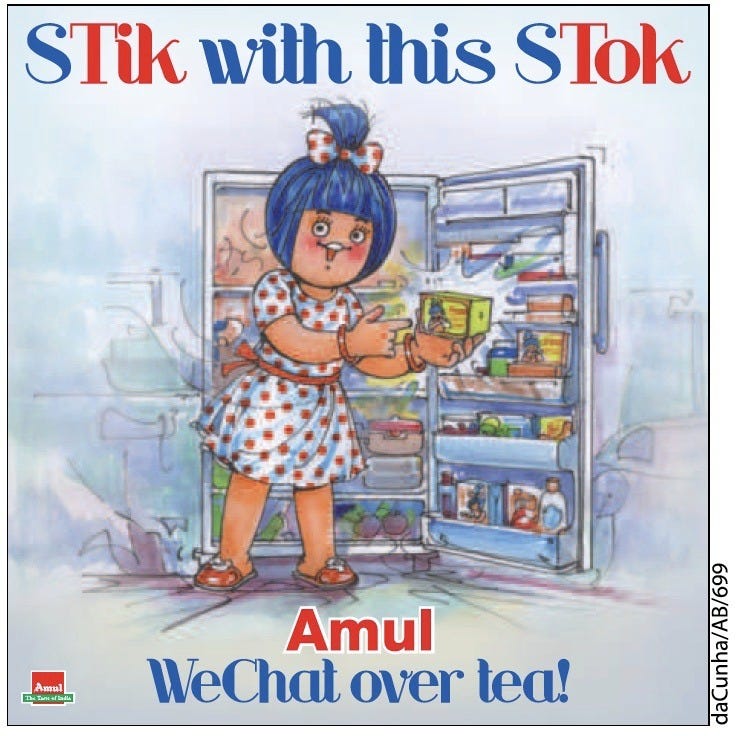 Amul, a popular Indian dairy cooperative, comments about the ban
While the overall economic impact of these bans might be low, they have already provoked a reaction from China. India has been accused of acting against WTO rules.
"India's measure selectively and discriminatorily aims at certain Chinese apps on ambiguous and far-fetched grounds, runs against fair and transparent procedure requirements, abuses national security exceptions and (is suspected of) violating WTO rules," Ji Rong, spokesman at the Chinese embassy in New Delhi, said in a statement. 
While it might seem "interesting" to some that China has chosen WTO (among all platforms) to protest India's banning of the apps, we should keep in mind that there are already proceedings in the WTO regarding India's import duties on IT products. After all, for China, it is better to piggyback onto an existing issue rather than establish a new one at a time when it is taking on several neighbours on various issues.
The ban comes at an especially inconvenient time for ByteDance (owner of TikTok) since it is reportedly planning an IPO this year. On the back of $5.6 billion of revenues in the January-May quarter, the firm is reportedly looking for a valuation in excess of $150 billion in its IPO.
With over 30% of TikTok's users being in India, this ban, if it stays, can prove problematic to ByteDance in its further fundraising efforts.
Interestingly, the foreign media seems rather sympathetic to India's ban of the Chinese apps. The New York Times, which has generally been critical of the Indian government in recent times, wrote this:
Cybersecurity analysts have warned in the past about the risks Chinese apps and telecom companies may pose, citing the country's National Intelligence Law. The law holds Chinese companies legally responsible for providing access, cooperation or support for Chinese intelligence gathering.

The same argument has been at the center of a campaign to persuade Western countries not to allow Chinese companies to build their next-generation 5G wireless networks.

"India's concerns aren't overblown, they are valid," said Christopher Ahlberg, the chief executive of Recorded Future, a cybersecurity company in Massachusetts that analyzes and collects threat intelligence.

"China would not be above using these apps for large scale data collection," Mr. Ahlberg added. "I don't expect that the government is running all these apps, but they may make an agreement with the companies that they have to cooperate once in a while. And it's easy under Chinese law to require them to do so."
Bloomberg, in an article syndicated by India's Business Standard, had this to say:
The unprecedented decision to ban 59 of China's largest apps is a warning to the country's tech giants, who for years thrived behind a government-imposed Great Firewall that kept out many of America's best-known internet names. If India finds a way to carry out that threat, it may present a model for other countries from Europe to Southeast Asia that seek to curtail the pervasiveness of apps like ByteDance's TikTok while safeguarding their citizens' enormously valuable data.
And the South China Morning Post says that this was the easiest way for India to hit back at China without hurting its own interests too much.
India's targeted ban is seen as an easy measure to impose and one that causes the least disruption.

Any restrictions on other sectors, such as the automobile, electronic, pharmaceutical, or furniture industry – where India is heavily dependent on China – would be difficult to impose swiftly and not have any immediate impact.

"The ban on the 59 Chinese apps looks very sudden, overarching in terms of breadth and depth. This seems like a strong reaction if we consider the impact on the overall population and app users," said Jayanth Kolla, founder of the market research and consultancy firm Convergence Catalyst.
An analyst from Gateway House, an Indian think tank, has said that this ban can hurt China's "digital silk road" initiative.
TikTok users, of course, are not happy. The app has become popular among a different demographic compared to mainstream social media platforms such as Twitter or Instagram. TikTok's "celebrities" and influencers are disjoint from people who are popular on Twitter, Facebook and Instagram.
Many TikTok users posted videos expressing their displeasure before the app stopped showing content on Tuesday. Some told their followers to track their future posts on YouTube or Instagram. 

One user @omkarsharma988 posted a video in which he throws utensils to the ground, hits a chair and weeps, with a Hindi song playing "You've left me, how will I live now?" The video had been liked 218,000 times, when the app still functioned on phones on which it was already downloaded. 

Another user posted a video showing TikTok's logo in a photoframe with a garland around it, with a headline "RIP TIKTOK!!" as a song played in the background.
The app has 600 million users in India (30% of its global usage base of 2 billion), and was seen to be investing in India heavily this year prior to the ban.
In the wake of the ban, some media outlets have posted links to apps that are broadly similar to the 59 apps that have been banned. Here is one version doing the rounds on social media.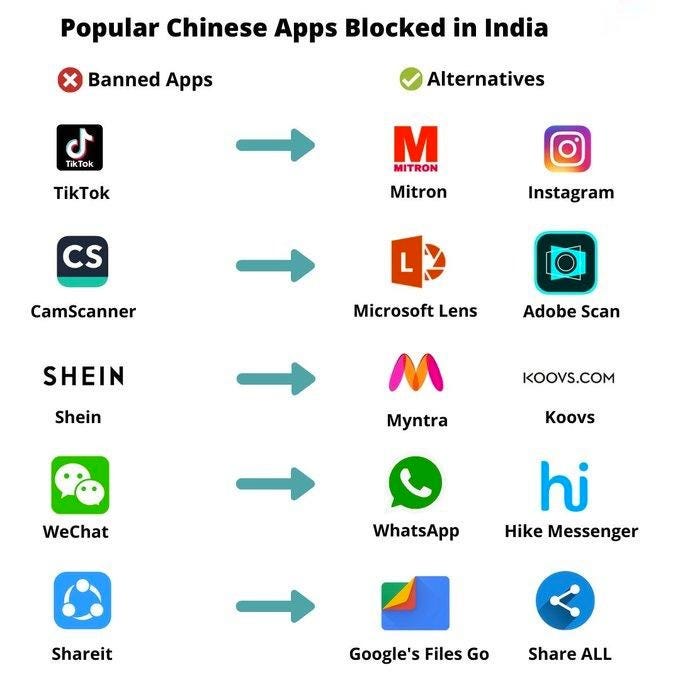 However, apps such as TikTok or ShareIt are platforms, which rely on heavy network effects. WeChat is heavily used by people with business and other connections in China (WhatsApp, for example, is banned in China). It may not be easy for users of these apps to find adequate alternatives.
Anti-China sentiment has been around in India for a while now, at least since the border tensions started in May this year. The Google Play Store even has some apps that help users know which other apps are made in China. One of them has a name we briefly considered as the title of this piece, until we remembered that The Paper is primarily targeted at an international audience.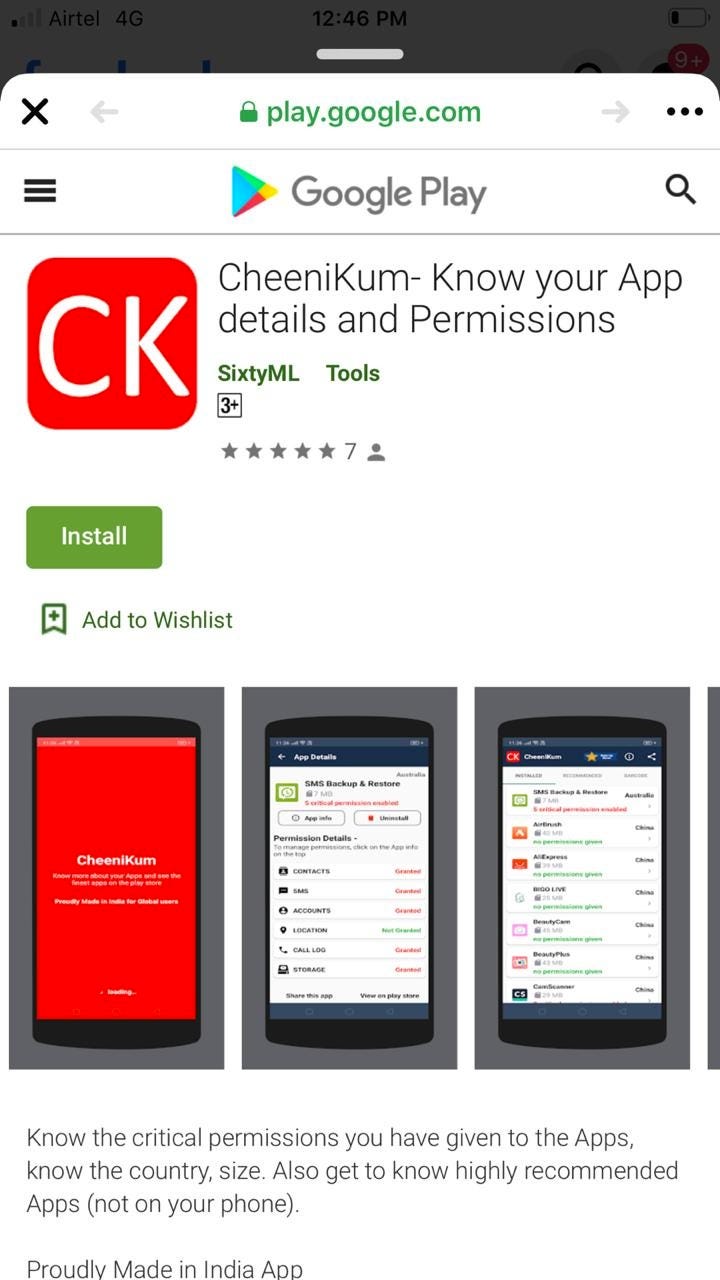 "Cheeni Kum" is a popular Indian film whose name translates to "less sugar". "Cheeni" is also the Hindi word for "Chinese", so "Cheeni Kum" translates to "less Chinese"!
Addendum
Soon after we sent out this newsletter came the news that China has retaliated to India's ban on 59 Chinese-owned apps. Prime Minister Narendra Modi's account on Sina Weibo has been deleted (Weibo is one of the 59 apps banned by India).
[Modi's] photo, posts and comments were removed from the handle.
The removal of all information from Modi's Weibo comes 10 days after at least three official Indian statements – including the PM's – were deleted from the Indian embassy's official account on the popular social media app, WeChat.
It could not be immediately ascertained when Modi's Weibo handle was taken down but on Wednesday, the page was blank.
We suspect this is in retaliation to India's ban on Weibo and 58 other Chinese-owned apps. The other possible explanation is this:
Modi's Weibo account was set up in 2015 amid much fanfare and publicity before his first visit to China as prime minister.

Since then the account had 244000 followers, many of them Chinese.

Since 2015, but barring this year, Modi had wished President Xi Jinping ahead of his birthday on June 15.
Remember when Yaya Toure threatened to leave Manchester City because the club didn't send him a birthday cake?