War by other means
As India and China clash at their border, Chinese investments into Indian startups might be a casualty
The more perceptive of you might have learnt by now that there have been border clashes between India and China in the Galwan valley in the Indian union territory of Ladakh (formerly a part of Jammu and Kashmir State).
The clashes earlier this week have left 20 Indian soldiers (including at least one officer) dead. None of them died by the bullet, as no shots were fired thanks to agreements between India and China struck in 1996 and 2005.
What's happening along the Himalayan border is an unusual kind of warfare. As in the brawls last month, Chinese and Indian soldiers fought fiercely without firing a shot — at least that's what officials on both sides contend. They say the soldiers followed their de facto border code not to use firearms and went at each other with fists, rocks and wooden clubs, some possibly studded with nails or wrapped in barbed wire.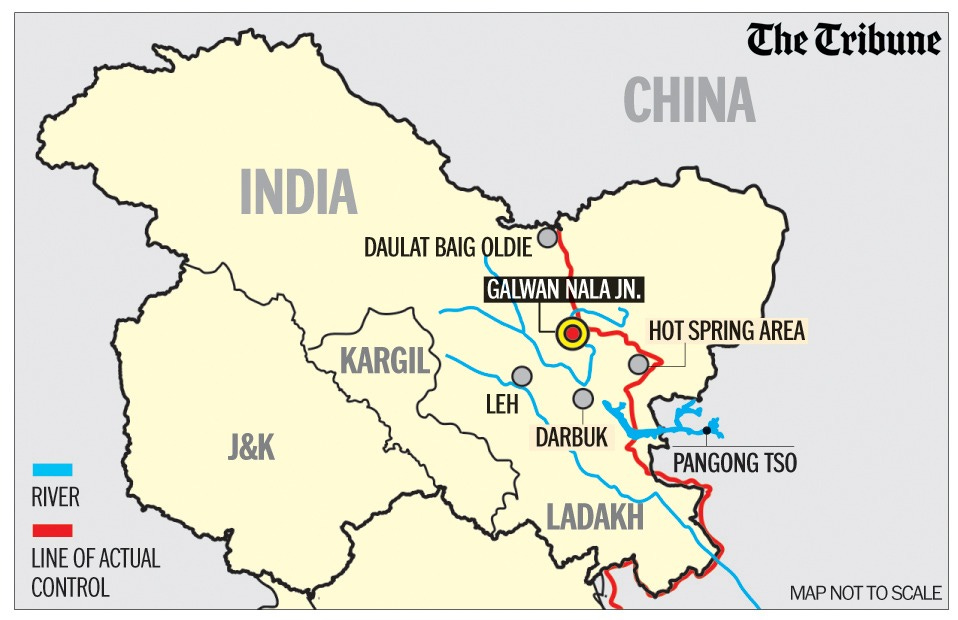 There have been casualties on the Chinese side as well, but China is yet to officially declare the numbers - apparently this is a sensitive decision in the authoritarian state, and needs permission of President Xi Jinping before being announced.
Indian news reports put China's casualties at between 35 and 43 dead and seriously injured. PLA Western Theatre Command spokesman Senior Colonel Zhang Shuili said on Tuesday that the skirmish in the Galwan River valley had led to casualties on both sides, but he declined to elaborate.

China's foreign ministry said on Wednesday that the two countries were "committed to solving our differences through dialogue", but also made no mention of casualty numbers.

A source close to the PLA told the South China Morning Postthat Beijing was "very sensitive" about military casualties, saying all numbers had to be approved by President Xi Jinping, who heads the Central Military Commission, before being released.
It also doesn't help (?) that China hasn't lost soldiers in battle since the 1980s, so admission of the loss of troops can have a significant impact in Chinese society. While the border clash has made headlines in all newspapers in India this week, Chinese official media seems to have buried the news.
Diplomacy continues to try and defuse the crisis which started in May (though the first casualties came this week), but the clash is likely to have a significant impact on trade between the two countries, which has gone up to $95 billion in 2019 (from $3 billion in 2000). Most of this trade flows from China to India, with India's trade deficit with China being around $60 billion as of 2019.
Economic relations between the two countries are already strained before this week's events.
In April, the People's Bank of China took advantage of depressed stock prices in India (thanks to the Covid-19 crisis) to pick up a 1% stake in HDFC, one of India's largest mortgage lenders.
In reaction to that, the Indian government had changed the norms for foreigners investing in India, with companies from "countries sharing a border with India" needing explicit government approvals before completing their investments. While this was not officially stated, the timing of this rule made it clear that it was aimed at China.
While the rule was primarily aimed at limiting Chinese stakes in India's largest companies (such as HDFC), it has had its impact on India's tech startup sector, which has seen significant investment from China.
BigBasket recently received funding of close to $50 million from Alibaba. The investment came at when the company was struggling to meet operational requirements due to restrictions imposed by the lockdown. However, future capital infusions in BigBasket by Alibaba are likely to be hit by the FDI policy change, which could force the company to look elsewhere for meeting its funding requirements.

Last year, Paytm raised $1 billion from Japan's SoftBank and Alibaba's Ant Financial. But growing competition in the payments space from US rivals such as Google and Walmart-owned PhonePe means the company needs to spend more to keep its edge in the market. Restriction on investments by its single largest shareholder, Alibaba, could likely stifle Paytm's growth.
China's total "direct investment" in India is estimated to be around $6.2 billion, of which $4 billion (two thirds) is in tech startups alone, according to a report by think tank Gateway House.
The Hindu Business Line neatly summarises the think tank report, which makes for rather interesting reading.
The companies which have major Chinese investments include Big Basket, Byju's, Delhivery, Dream 11, Flipkart, Hike, MakeMyTrip, Ola, Oyo, Paytm, Paytm Mall, PolicyBazzar, Quikr, Rivigo, Snapdeal, Swiggy, Uddan, Zomato are some where Chinese companies hold stake.
In other words, pretty much the who's who of the Indian startup ecosystem have Chinese investors. And there are significant Chinese investments in more traditional sectors such as Auto and Pharma as well.
The single largest Chinese investment in India is the $1.1 billion acquisition of Gland Pharma by Fosun in 2018. This accounts for 17.7% of all Chinese FDI into India, but it is unique, the report said. Gateway House identified just five other investments by Chinese companies which exceed $100 million. This includes the $300-million investment by MG Motors.
Then, in May, when the border clashes between China and India started and Chinese troops made their first incursions of the year into the Indian side of the border, there was a movement in India to get rid of Chinese made apps. Now, this is easier said than done, since apps such as TikTok are wildly popular in India, and Chinese-made phones dominate the Indian market.
Nevertheless, a "Remove China Apps" app was uploaded on Google Play Store that would check for and remove all apps made by Chinese companies from people's phones. Google subsequently deleted this app from the Play Store.
Remove China Apps, an app that gained popularity in India in recent weeks and did exactly what its name suggests, has been pulled from the Play Store.

The top trending app in India, which was downloaded more than 5 million times since late May and enabled users to detect and easily delete apps developed by Chinese firms, was pulled from Android's marquee app store for violating Google Play Store's Deceptive Behavior Policy, TechCrunch has learned.
And remember that all of this was before the clashes on the border got violent, resulting in deaths and injuries. We can't rule out that the anti-China sentiment (one Union minister has asked people to boycott Chinese restaurants, conveniently forgetting that "Indian Chinese" as a cuisine is more Indian than Chinese) gets stronger, which might affect Indian startups that have raised (sometimes significant) money from Chinese companies.
The worry is that the country's startup ecosystem, which continues to be dependent on large swathes of foreign funding given the ongoing absence of home-grown pools of capital, will face significant near-to-medium term cash constraints if investors from the world's second-largest economy walk away. 

"The entire sentiment is leaning anti-China right now. It is becoming a moral hazard for a company to accept any capital from China in this environment...The current standoff at the border does little to mitigate that," Pai of 3one4 Capital said.
Elsewhere
Yesterday we spoke about the education technology (EdTech) sector in India and how the pandemic has given it a massive lift, at least when it comes to higher education. Blume Ventures, a prominent Indian Venture Capital Firm has produced a report on the sector.
Helpfully, they have added a tweetstorm as well.