Copy cat, copy cat, where had you been
Facebook seems to have a little bit of competition from their latest investment
Let's survey the scene. In March, it was rumoured that Facebook was interested in taking a stake in Reliance Jio. In April, that interest got confirmed. Last week, the deal closed. Jio Platforms has acquired 10 other new investors since April.
In June, following clashes along the border and China's aggressive stance related to it, India banned 59 Chinese-owned apps (including TikTok), and slowed down customs clearance of goods coming in from China.
Facebook's WhatsApp had run a beta trial of its payment service WhatsApp Pay, based on the UPI platform, in 2017. However, it did not receive permission from NPCI (which runs UPI) to launch officially thanks to data localisation issues. In February this year, it received approval for a "phased rollout" but that failed to take off. In April, WhatsApp said that it would "comply with all rules" by May.
WhatsApp Pay is yet to launch. When Facebook invested in Jio, it was rumoured that this might help WhatsApp Pay get a leg up, and launch soon. Now, it appears that Jio will play no role in helping WhatsApp Pay get approval.
Shining a torch at the sun
There is an idiom in Kannada that goes "sUryanigE torchu" (ಸೂಯ೯ನಿಗೇ torchu), which roughly translates to "shining a torch at the sun". Considering that half the idiom is in English, it is unlikely to be too old, and it is likely to have come from "street language". There are other equivalents as well, though they are not particularly parliamentary.
The idiom refers to doing something to someone who is an expert at that thing. Like Mankading Vinoo Mankad. Or parking the bus against a Jose Mourinho team. Or undercutting Amazon on price. Or copying Facebook.
Facebook, over the years, has developed a reputation for being an excellent copycat. Instagram's history of copying features from Snapchat is legendary (Instagram is owned by Facebook). In February this year, Facebook launched a Pinterest clone. In April, Facebook launched a Zoom copycat. As a story in the Wall Street Journal (paywalled) puts it, Facebook doesn't even hesitate to copy startups.
And in the wake of TikTok getting banned in India, and possibly in the US as well, Facebook has released Instagram Reels.
And who is copying Facebook now? Their newest partners in India - Reliance Jio! Jio Chat, an old app that is part of Jio's suite, but its recent makeover makes it look uncannily similar to WhatsApp. Speaking of timing, this feature update happened after Facebook's investment in Jio got closed.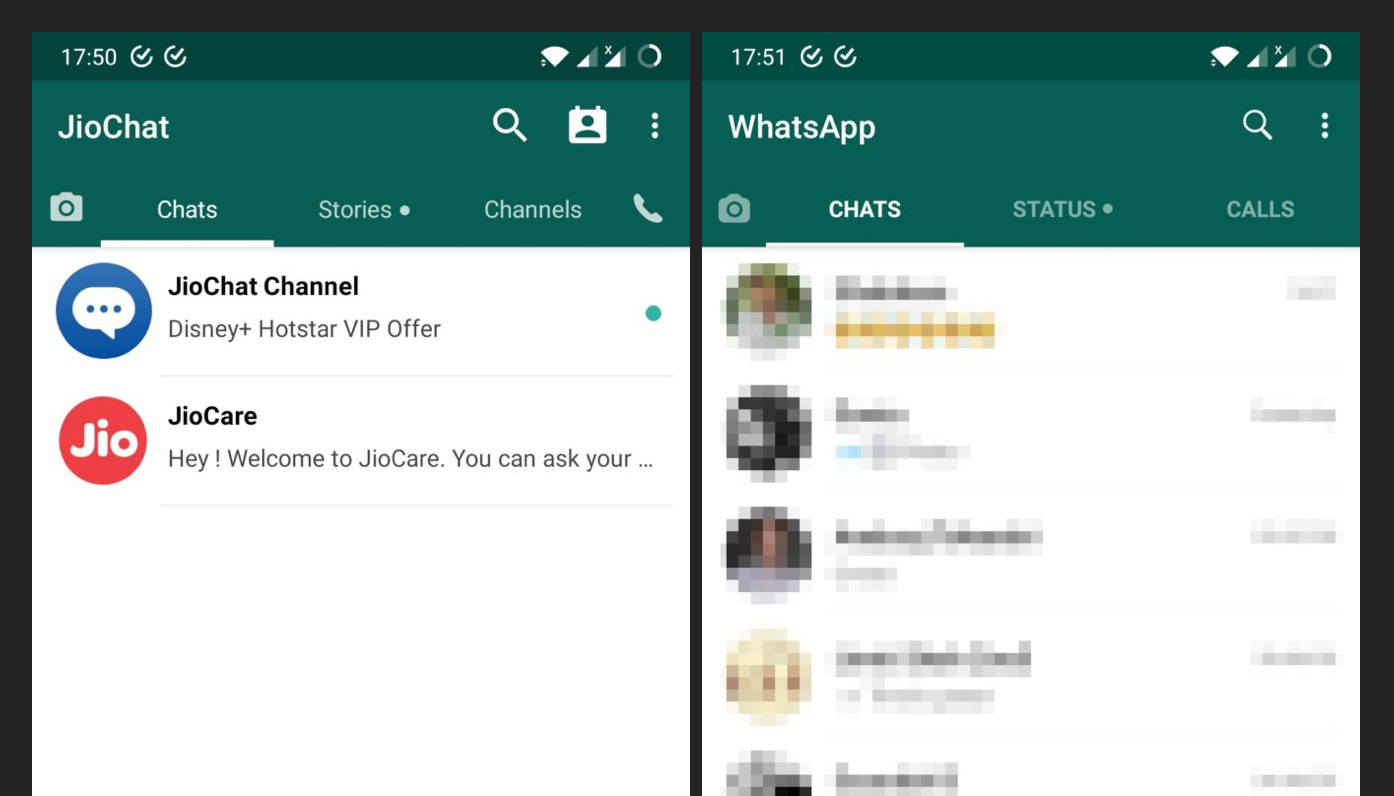 Jio is not just a mobile network. It also manufactures "JioPhone", 4G enabled feature phones that it is using to reach the proverbial "bottom of the pyramid" market (Jio is a 4G only network and doesn't work on phones that don't support 4G). Being a feature phone, Jio Phone doesn't have an app store equivalent, and only apps which Jio supports are available on the phone.
And WhatsApp is not one of them. This is an old report from the Economic Times but worth quoting:
The 4G VoLTE feature phone comes pre-loaded with Jio apps and will also support Facebook and YouTube, however there is no functionality to support Whatsapp as of now. Also there are reports suggesting that an update may be rolled out or the feature may be introduced at a later stage to support Whatsapp.

Jio, however, is eying to leverage JioChat, a WhatsApp rival, in the new devices.
We sometimes wonder if Jio is trying to leverage its large user base (~400 million as of February) to build a competing messaging service in India. While device companies have launched their own messaging services in the past (think Blackberry Messenger and iMessage), we don't have too many examples of successful messaging platforms driven mobile operators.
Nevertheless, with messaging being a classic network effect play, it is unlikely that Jio Chat will take off in the way Jio imagines. The market share in chat will be the square of the overall market share, since both people chatting need to be on the same platform (so, if Jio has 40% market share, only 16% of all conversations can happen through Jio Chat - hardly sufficient for it to become a dominant player in messaging).
Meanwhile, Facebook is looking to fortify its position when it comes to messaging. A recent article suggests that soon WhatsApp and Facebook Messenger, two popular (and massive) messaging platforms owned by Facebook, might become interoperable.
Copy one, copy all
Jio is not just a mobile network and maker of mobile devices. In February this year, it launched Jio Pay, a payments system based on the UPI platform. This is aside from its mobile wallet known as Jio Money (earlier this week, we spoke about how UPI is trumping mobile wallets in India).
Facebook is not the only company that Jio is copying. A few days back we had mentioned JioMeet, which is named after one video conferencing solution, but resembles another. Zoom has indicated that it is "exploring all legal options" and might take action against Jio for blatantly copying the design.
Speaking of copying, we leave you with this excellent piece from Stratechery about "copying well", written when Instagram had just copied features from Snapchat.
Still, cloning isn't enough. The fact features don't offer useful differentiation does not remove the need for differentiation: the key is figuring out what else can be leveraged. Google, for example, may have largely copied the iPhone's UI, but the key to Android's success was the search company's ability to leverage their advertising-based business model to offer it for free. On the hardware side Samsung leveraged their manufacturing might and long-established distribution channels to dominate the otherwise undifferentiated Android market, at least for a time. And, in perhaps the most famous example of this strategy, Microsoft embraced web standards with Internet Explorer, extended their browser's capabilities with features like ActiveX, eventually extinguishing the threat when Netscape couldn't keep up.
Facebook has demonstrated in the past that it is capable of "copying well". Now its latest investment Reliance Jio has also shown it likes to copy. Whether it will be able to do it as well as Facebook does remains to be seen.