A shut and open case
A look at how the covid-19 associated lockdown has been handled in India, and how different industries have been affected
There are two reasons why economic activities are depressed in the wake of the covid-19 crisis.
First, the transaction doesn't happen because either the buyer or seller is not willing. People may not want to go to shop. People will not want to send their children to school. Shopkeepers think keeping their shop open is too risky. Restaurant owners decide it doesn't make sense to open the restaurant if nobody is coming.
The other reason is where the buyer and the seller are willing to do business with each other but a "higher authority" (say, the government) doesn't permit them to do business. For example, people might want to go to the gym, and the gym owners want to open, but the government doesn't let the gyms open. People want to go to offices, employers want employees in offices but government mandates work from home.
In the initial days of the lockdown, most of the fall in economic activity was due to the second reason. Barring "essential services" (the definition of which could vary based on the whims and fancies of the local bureaucrats and police), everything was "banned". People were forced to stay home. Unsurprisingly, economic activity dropped.
Then, in "lockdown 2.0", things continued to be banned but fewer things were banned. Then we had lockdown 3.0 where, rather importantly, liquor stores were allowed to open (that they had not been declared "essential" earlier resulted in long lines and the usual moralistic noises). And then that was followed by a lockdown 4.0 (if the nomenclature doesn't convince you that India is an IT-savvy country, what will?).
After this the nomenclature changed. Lock went to unlock. Rather than a white list of activities that people could carry out, we now had an explicit blacklist of things that people couldn't do. Metro trains, schools, gyms, swimming pools and cinema halls (and a few other activities) weren't allowed to open. Starting July 1st, we are going into "Unlock 2.0" (if not anything we're great at nomenclature), which, frankly, isn't very different from Unlock 1.0.
These phases of locking and unlocking have been completely uncorrelated to the growth of the detected viral cases in the country, which continue to grow.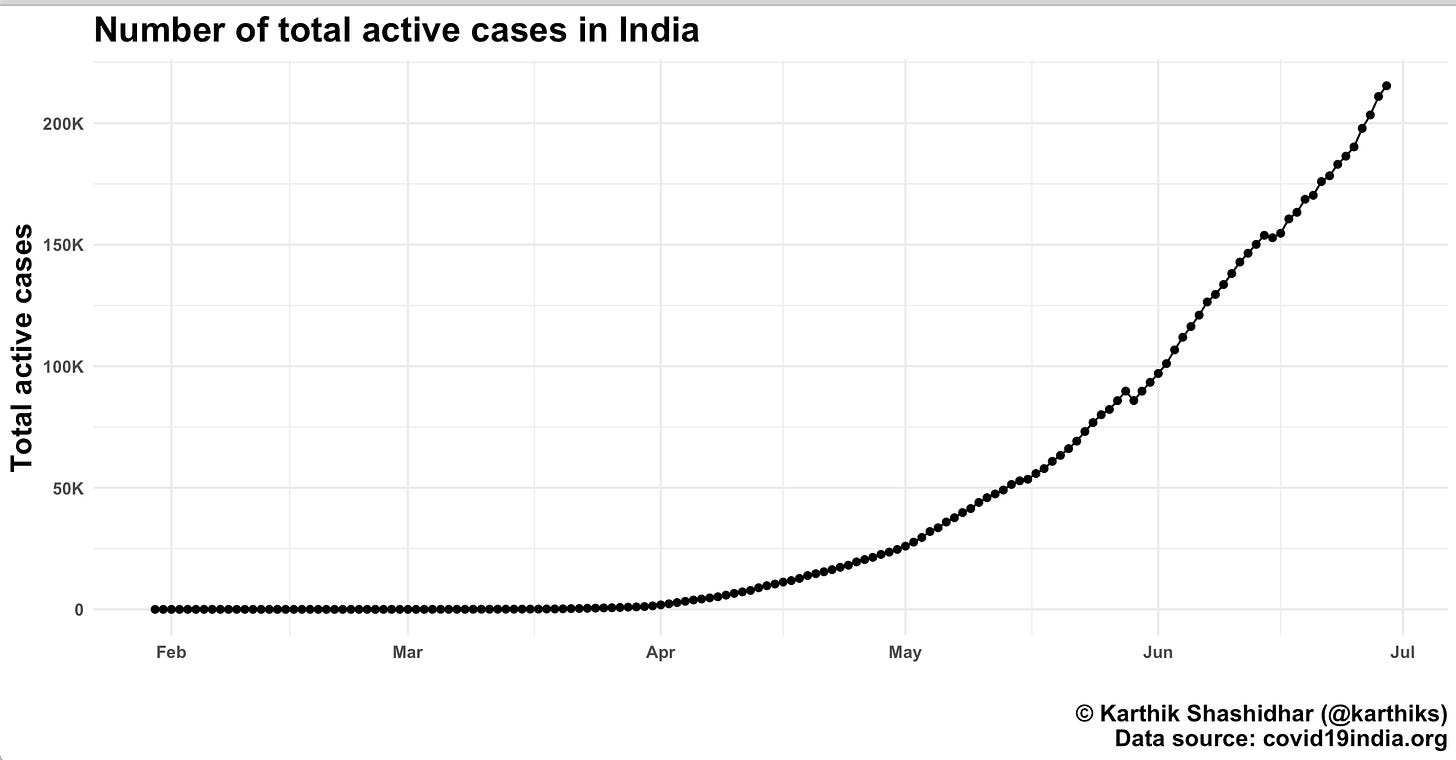 Last week we spoke about possible "green shoots" in the economy after it had got completely locked down in April. That the government control of the economy has reduced has meant that we have these green shoots.
However, even where the government permits, people are still not willing to trade as much as they were before the pandemic struck. There is a sort of "hysteresis loop" the economy has been stuck in. There has been significant job loss thanks to the pandemic, as we saw last week.
Moreover, people's risk preferences have changed. A survey by the Times Of India reveals that over 90% of the population doesn't want to stay in hotels now (hotels were opened as part of Unlock 1.0). An editorial in the Hindu Business Line called for a stimulus package to the hospitality sector.
People are also loathe to step out into markets and shops, so they are buying more online. If this trend holds, it can have significant consequences for the commercial real estate sector in India.
India's largest fast moving consumer goods (FMCG) company Hindustan Unilever, that sells products in over eight million retail outlets, said a fifth of stores in its direct coverage are yet to open. 

"But that doesn't mean that if a store has not opened, demand is lost. Many modern trade outlets continue to remain shut, leading to the rise of the omni-channel. Even when modern trade stores reopen, there might be some initial hesitation because of crowds," said HUL chairman Sanjiv Mehta.
In related news, Flipkart (one of India's largest e-commerce retailer) has said that over 90% of its suppliers are back on the platform, and has also attracted a large number of new sellers.
The pandemic has also changed consumer behaviour in other ways. Increased risk aversion means some people are loathe to touch currency notes touched by others, so digital payments had gone up. They had initially declined in April when the government didn't permit much business to happen, but there's been a V-shaped recovery since.
Digital payment transactions through the Unified Payment Interface (UPI), cards and mobile wallets have made a near V-shaped recovery this month. Volumes had plunged nearly 60% in April after a countrywide lockdown to arrest the spread of the Covid-19 pandemic. 

UPI, operated by the National Payments Corp of India (NPCI), processed 1.23 billion transactions worth Rs 2.41 lakh crore until June 28, the most value recorded by the channel in a month, Reserve Bank of India (RBI) data showed.
You just can't beat a Bajaj
There is a broad consensus that Indian newspapers are largely unreadable on the day following the annual Union Budget in February. It is a standard practice of Indian media to invite corporate leaders to write about what they think of the budget. The nature of Indian regulation means that these leaders are seldom critical of the government in power.
In this background, it is interesting that some prominent CEOs have turned into harsh critics of the government during the lockdown, with Bajaj Auto Managing Director Rajiv Bajaj leading the way.
India looked into the wrong crystal ball in dealing with the coronavirus, believes Rajiv Bajaj. In an interview to ET Now, the outspoken MD of Bajaj Auto pilloried the Centre for going ahead with what he saw as a Western model of virus containment instead of taking cues from Asian nations like Japan or South Korea that had not imposed harsh curbs and kept their economies running. 
The entire interview is worth reading. Bajaj had earlier claimed that India had "flattened the wrong curve" in its policy against the pandemic. In the early days of the pandemic, Bajaj had claimed that homeopathy would help contain the pandemic. As if to show skin in the game, Bajaj and his employees regularly took a homeopathic medicine to boost immunity and protect themselves from the pandemic.
Evidently, the homeopathic medicine did not have its impact, since over 200 employees in its plant in Waluj tested positive for covid-19. At least two of them have died.
Despite the infections and deaths in his factories, Bajaj continues to question the lockdowns (his recent views on homeopathy aren't clear).
Bajaj also emphasised that the companies cannot sustain paying salaries while operations remain suspended for a prolonged period. He said that firms will eventually have to implement no work, no pay.

"So if you want to be absolutely safe and you want to sit at home till the vaccine comes, you are welcome to sit at home. But please understand that if we sit at home for one to two years, there is no company in the world which can continue to pay your wages. We will have to implement no work no pay," Bajaj said.
Bajaj is not the only auto industry "captain" to speak out against the lockdown. Anand Mahindra, chairman of Mahindra and Mahindra, has taken to twitter to explain why the lockdown isn't helping, and how it is creating new difficulties.
India's lockdown strategy has left it in a hard place. Initially, the lockdown was stringent, and that helped curb the growth of the disease. However, that also curbed the economy and people's lives. And as the economy has opened gradually, the cases continue to rise.
We will leave you today with this graphic by The Wire, that has the potential to give you a headache, but nicely summarises how we got here.