The same things, done differently
Sticking to one of our pet theories, we take a look at some of the things Indian companies and consumers are doing in different ways due to the pandemic
Earlier this week, we talked about how digital transformation is about doing different things, and not just doing things differently (such as building a website or getting an Instagram account).
We have also maintained in The Paper over the last few months that the pandemic doesn't mean that people will do different things. It will only mean that they will do the same things differently. And as they do things differently, there will be winners and losers, depending on whether they enable people to do things in the new ways or in the old ways.
As data continues to pour in on how businesses and people are adapting to the pandemic, we see our pet theory bearing out further.
Companies
People will continue to work, though some of them might work from their own homes rather than going to their offices to work. EY (the artist formerly known as Ernst and Young) thinks that Indians have accepted working from home "as the new normal".
This means that the demand for commercial real estate will go down (notwithstanding the fact that the people remaining in the offices will now need more space per capita). Morgan Stanley speculates that 3-9% of people across Asia will work from home permanently. Their report, as reported in CNBC, speculates on a few ways on how companies could cut space, and predicts that rents will decline by 10-15% over the next three years.
So how will real estate cope with this decreased demand? The sector is now betting on data centres (paywalled). As more people work from home, demand for "cloud storage" goes up. Also there is all the digital transformation going on.
Meanwhile companies are expanding the scope of things that can be done from home. One worry about remote work was that it would make hiring and onboarding difficult. That, however, doesn't mean companies are not doing it.
A recent hiring outlook report by CareerNet Consulting said three out of four organizations believe they can effectively hire employees remotely. The study revealed that companies from e-commerce, IT-ITeS, science & technology, and telecommunications sectors exhibit a higher readiness (82%) for virtual hiring.
Companies are even hiring part-time managers. So far, contracting and short-term and part-time work was largely limited to individual contributors. Not any more it seems.
And rather than hiring and firing at this time when job markets have slightly seized up and become less liquid, companies are retraining people to do different things. Recruiters are doing sales. Editors are doing customer service. Some companies are "put everyone through training in all verticals". Wonder how that will work out.
One of the reasons why economic disruption results in job losses is that the set of jobs available after the shake-up is different from the set of jobs people are willing/able to do. In-house training at large(ish) companies seems like a good way to bridge this gap.
Consumers
The classic example of "doing the same things differently" has to do with eating. People need to eat to live (we admit that some live to eat). The pandemic means that people are eating out less and eating more at home. Consequently, grocery sales are up. We had written about this before.
For instance, Britannia, maker of Good Day and Tiger biscuits, expanded sales by 25%, while Hindustan Unilever said there was a big burst of demand for jams and ketchup as people were cocooned in homes. ITC, which makes Sunfeast biscuits and Bingo Chips, said staples, noodles, biscuits and dairy products saw healthy demand in the June quarter. Marico too said demand for its Saffola cooking oil grew 16% due to an increase in home cooking. It also reported higher in-home consumption of hair oils. 
As you might expect, McKinsey has a report out on this. The report talks about increased uncertainty, "mindful shopping", letting go of loyalty and a "flight to digital and omnichannel". The report has this nice graph on what people are doing more and less of.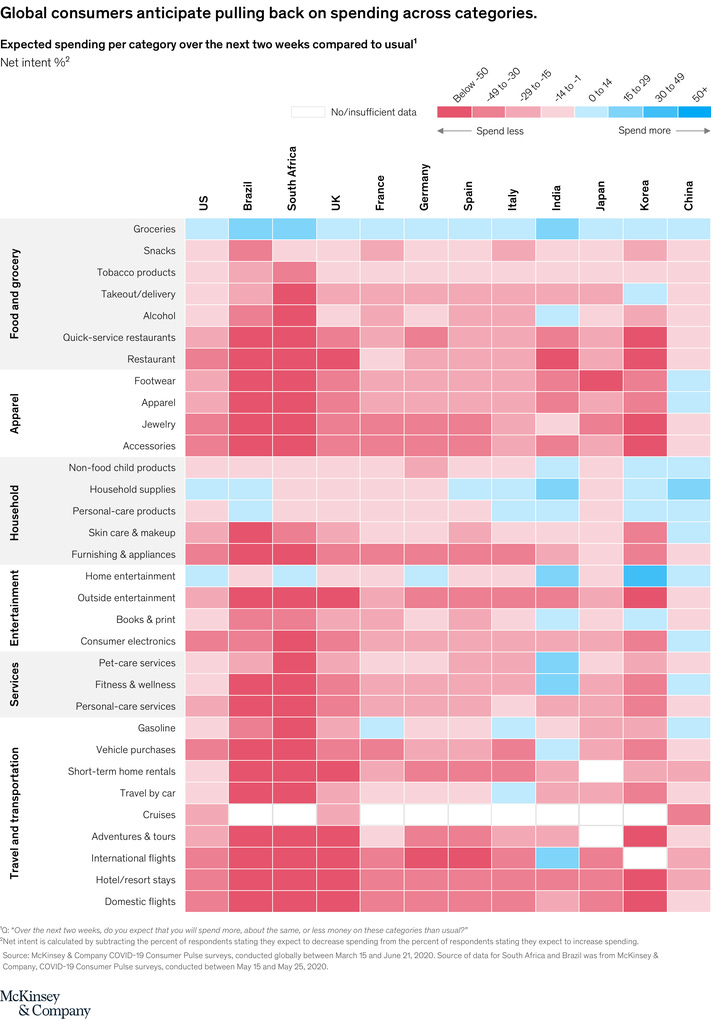 It is only in India, it seems, that people are spending more on alcohol, pet care services and "non-food child products".
Accenture, not wanting to be left behind, also has a report on this. It pretty much talks about the same things, but without nice graphs like the one above.
We are certain other large consulting firms have also produced such reports, but we're not sure what incremental value they would add. So we're letting it be.
Both reports linked above talk about "digital and omnichannel" . Companies are taking notice of that.
Companies are trying out new strategies, including launching their own e-commerce sites, taking orders via WhatsApp calls and organising swift home-deliveries as they seek to cope with a world that has been transformed by the coronavirus pandemic. 

With footfalls in malls and stores almost disappearing, many apparel and home appliances brands are devising strategies to reach out to the consumer directly.
Maybe some of the "digital transformation" projects that Indian IT services firms are doing are related to this?
Along with moving to digital, companies are also rejigging their supply chains. We had written a few weeks back about how now is the time for companies and economies to "get fat". So just-in-time supply chains are going out of fashion. This article is by McKinsey partners, so one three latter acronym (JIT) has to be replaced by another ("JIC").
The writing on the wall, however, has been the same for everyone. Just-in-time (JIT), the decades-old poster child of supply chains, is no longer tenable. It was ideal for a world of certainties, in which you could minimize your inventory because you knew that your supplies would arrive on time and that your demand would not disappear overnight. But, in a post-covid world, where the rug has long been pulled from under our collective feet, industry practitioners are being forced to look beyond JIT.

Increasingly, they are taking refuge in the philosophy of just-in-case (JIC), which has been the mainstay of companies that have a hard time forecasting demand.
In other news, people are buying more bicycles (to the extent that parts are in short supply), and going out when they can (with or without precautions).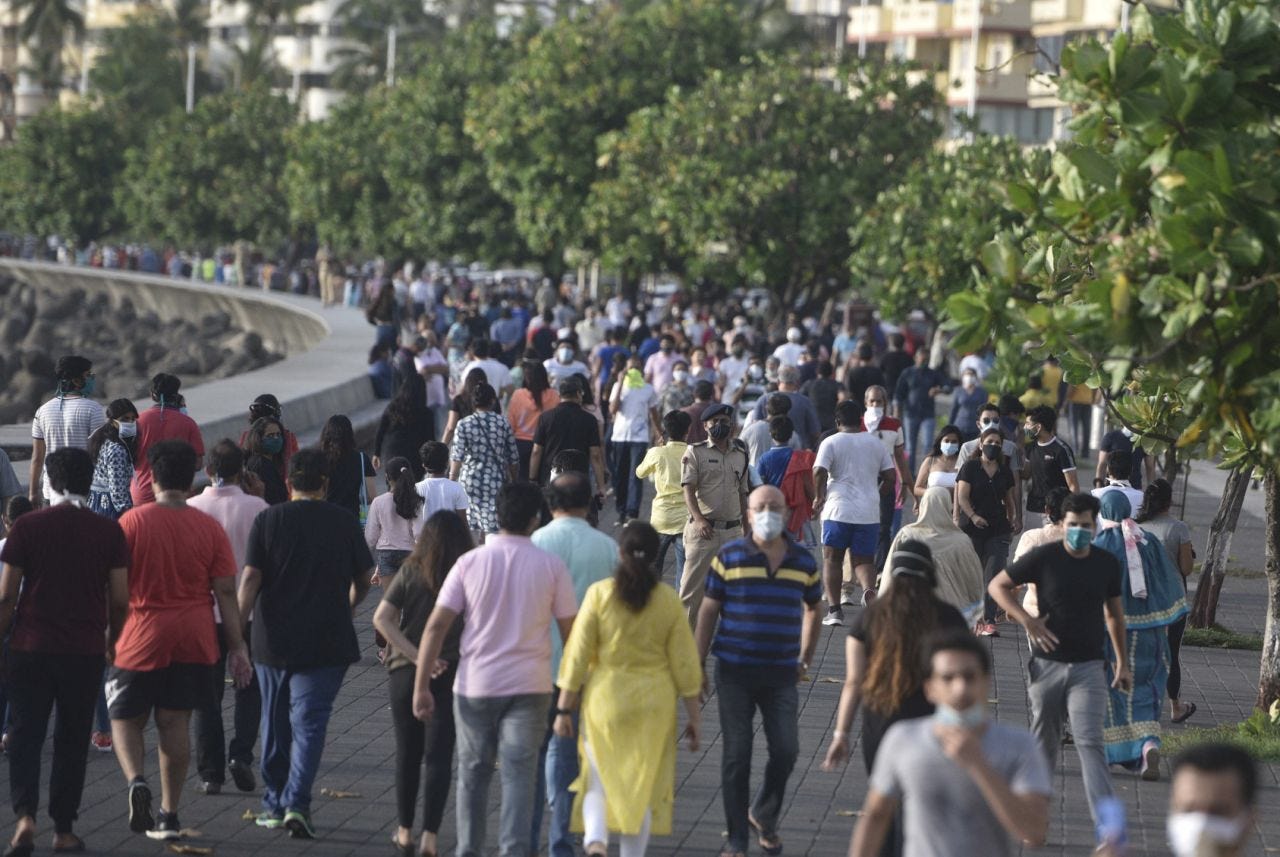 Photo by Satyabrata Tripathy of the Hindustan Times, via Getty Images and Yahoo!
One thing they are not doing is going to the cinemas (to be fair, they have not been allowed to open yet in India), or live events. Both these sectors are likely to see massive disruption in the coming months, and not necessarily in a good way.
Movies at least have streaming as another channel to reach customers, and there is evidence that the balance of power there is already shifting.
Live events don't. It is not easy for us to think about how people will "do live events differently". However, it is not that the industry is not trying. We recommend you read this comprehensive article in full.