OneWeb To Rule Them All
When we started The Paper, we hadn't imagined we would write a story that brought together Softbank, Brexit, the Narendra Modi cabinet and the Indian telecom sector
There is a story in Hindu mythology in which Brahma (the Creator) and Vishnu (the Preserver) have an argument on who is greater. In comes Shiva (the Destroyer; these three together form the "trinity" of Hindu myth) who says "I'll take the form of fire. Whoever can get past me first is greater". And he quickly turns himself into a pillar of fire.
Vishnu turns himself into a boar and digs the earth, trying to get past the column of fire from below. Brahma converts himself into a swan and tries to fly over the fire (with the benefit of hindsight, a swan is hardly an ideal bird to fly high). Neither succeeds, and they both come to the conclusion that it doesn't matter which of them is greater - Shiva is the greatest of them all.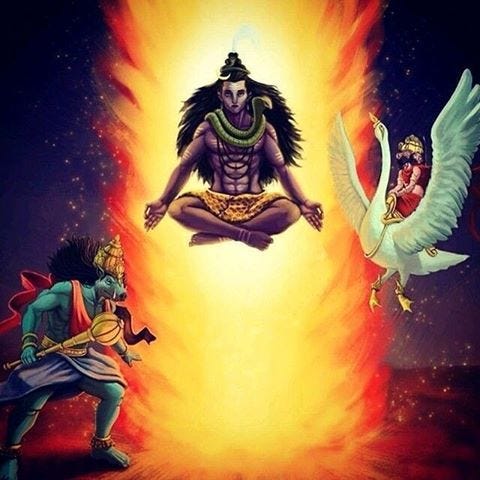 Telecom wars in India have started getting interesting. We have been seeing over the last month that Reliance Jio, the market leader has been lining up investor after investor. Jio is also in the process of laying out "JioFiber", a high speed fibre broadband network. Like Vishnu in his boar form, Jio is digging underground to provide its customers faster broadband compared to what its mobile network offers.
Competitor Bharti Airtel, in which Amazon is rumoured to take a stake, has decided to go the Brahma way, and provide broadband connection through the skies.
In association with the UK Government, Bharti Global, the parent of Airtel, has struck a deal to acquire OneWeb, a "satellite constellation operator" that is currently going though bankruptcy proceedings. From a TechCrunch article on the matter:
OneWeb is a London-based company already, and its constellation can provide access to low latency, high-speed broadband via low Earth orbit small satellites, which could potentially be a great resource for connecting UK citizens to affordable, quality connections. 
And from OneWeb's press release:
The consortium brings immediate commercial value to OneWeb. Bharti, through Bharti Airtel, is the third largest mobile operator in the world, with over 425 million customers. Bharti Airtel has its own extensive mobile broadband networks and enterprise business, which will act as the testing ground for all OneWeb products, services, and applications. Bharti will contribute significant contract value to OneWeb through its presence across South Asia and Sub-Saharan Africa, where the terrain necessitates the use of satellite-based connectivity, providing a near-term anchor customer for large-scale global deployment of OneWeb's services.
OneWeb went bankrupt because SoftBank, its largest investor, pulled out of a funding round. In the wake of the WeWork fiasco, SoftBank reportedly decided that letting OneWeb go bankrupt was more profitable than putting in the proverbial "good money after bad". While OneWeb had plans to launch 650 satellites, they had only launched 74 at the time of bankruptcy.
From a CNBC article in March:
OneWeb was in the early stages of launching its own global satellite internet constellation, which would have competed directly with the network SpaceX is building called Starlink. While SoftBank is its largest investor, OneWeb had raised about $3.4 billion in funding with investors including Qualcomm, Airbus, Virgin Group, Coca-Cola, Maxar Technologies, Hughes Communications and Intelsat.
The article also reports some choice words that SpaceX COO Gwynne Shotwell had for OneWeb:
The SpaceX leader didn't stop at a comparison, giving the opera house full of investors an ominous warning about backing OneWeb. "If you're thinking about investing in OneWeb, I would recommend strongly against it. They fooled some people who are going to be pretty disappointed in the near term," Shotwell said.
Back to Bharti, they've invested at a rather interesting time in India for space technology. From a report in the Economic Times,
[Bharti Chairman Sunil] Mittal said this business had "substantial commercial use cases" across the telecoms, enterprise, aviation and maritime sectors, and with strong operational execution, Bharti would be able to generate an attractive return for investors, while also ensuring Britain plays a leading role in space and next-generation communications. 

"Further, India's leading-edge capabilities in the space programme through the Indian Space Research Organisation can be leveraged to accelerate OneWeb's ambitions," he added. 
His mention of ISRO is pertinent because it was only last month that the Indian government decided to end ISRO's monopoly when it comes to the space sector in India and open it up for commercial participation. This is part of a larger reform package that the Indian government is undertaking in the wake of the covid-19 induced economic slowdown. The cabinet approved the decision to allow private participation in space technology as late as the last week of June. The Financial Express reports:
In a historic decision, the Union government on Wednesday opened India's space programmes to private players. The Union Cabinet, headed by Prime Minister Narendra Modi, approved private sector participation in the entire range of space activities. "This will unlock India's potential in the space sector," said Union minister Jitendra Singh, while announcing the decision.

The Cabinet approved the newly formed Indian National Space Promotion and Authorization Centre (IN-SPACe), which will act as an arm of the Indian Space Research Organisation (ISRO). IN-SPACe, which will be functional in six months, will provide "a level playing field" to private companies in the country's space programmes, said minister Jitendra Singh. Though policies and good regulatory practices, IN-SPACe, in consultation with ISRO, will also guide and promote the private companies in their endeavour in space activities after assessing their needs and demands.
The bill is now in its "final stages" of preparation, and will possibly be introduced whenever the Indian Parliament meets next. Here is a nice, if old, opinion piece on why India opening up the space sector for private participation is a good move.
Back to OneWeb, currently it launches its satellites from Florida in association with Airbus, but there is speculation that post the deal, the UK might have a larger role to play. Airbus is likely to continue to partner with OneWeb.
Richard Franklin, managing director of Airbus Defence and Space U.K., said the company is eager to work with OneWeb.

"The U.K. government's vision in backing this project will drive innovation and new ways of thinking about how space can contribute even more to the U.K. economy, and the country's defence requirements, as well as playing a part in delivering broadband internet to communities across the country," he said in a July 3 statement. "We look forward to supporting OneWeb in the next phase of their business and growing the UK contribution to this market changing business."
Bharti taking to the skies to provide broadband connectivity makes sense. But what is the British government doing in this deal? It may not be hard to guess that this has to do with Brexit.
Part of the U.K.'s interest in supporting OneWeb is to form the basis for a new national navigation system, after the European Union froze Britain out of the most secure elements of the bloc's project, called Galileo. Prime Minister Boris Johnson is trying to attract fresh foreign investment from countries including India, China and the U.S. to help offset the U.K.'s departure from the EU. 
To summarise - WeWork IPO collapses. So SoftBank gets conservative. And they refuse to further fund a high-tech investment that is nowhere close to bringing in returns. So this investment goes bankrupt.
Brexit denies the UK participation in EU's Galileo sat-nav project. Bharti brings in a massive customer base thanks to Airtel and its investments in Africa. So they get together and win a bid to buy OneWeb. Very coincidentally, at the same time, the Narendra Modi government opens up the space sector in India.
Fascinating, right?
Meanwhile, we don't think Vodafone-Idea has the capability to turn itself into a pillar of fire and show itself as being greater than Airtel and Jio.