Everyday is not a Good Day
As more Q1 results come in, we see a divergence in performance among packaged goods companies. Some of our recurring themes can help us appreciate them.
As the covid-19 pandemic continues to disrupt our lives, there are a few themes that are emerging in terms of how and what people buy. The first theme is that people will continue to do the same things, but do so in a different way. Another theme is that people are now spending more time at home compared to before, so they will do more of things that can be done at home, and less of things that need to be done outside. Yet another theme is that as some people lose jobs, or their businesses suffer, they have less disposable income. So they will spend a greater proportion of their spending on "essentials", and less on "luxuries".
As you might have figured out from our writing over the last few weeks, The Paper is always partial to grand ideas like the ones mentioned above, and we will continue to bring to you stories that address one or more of the above themes.
Last week we did this story on the theme of "people doing the same things, but in a different manner". One of the heroes of that story was biscuit maker Britannia, whose profits in the April-June quarter more than doubled on a year-on-year basis. This might have lulled you into believing that other companies that have a broadly similar product portfolio, consisting of things that can be done at home (rather than outside) would have done well.
Unfortunately that hasn't been the case. Nestlé, the maker of Maggi, Everyday milk powder and Nescafe underperformed compared to analysts' expectations. While the company did make a profit, and one that was 11% higher (YoY), this was less than what analysts expected thanks to the rise in demand for packaged food (something that is consumed much more at home than outside).
While revenues from domestic sales went up by 2.6%, export sales was down by 9.3% due to falling trade resulting from the pandemic. Also, Nestlé seems to sell sufficient stuff that is consumed outside of home (a category that is dipping). According to NDTV, its managing director Suresh Narayanan said:
The demand in all 'Out of Home' consumption channels experienced a sharp decline due to the lockdown. However Nestle brands enjoy trust, credibility and strength as far as "in home consumption" is concerned and this boosted sales of EVERYDAY Dairy Whitener, Nestle a+ Milk, other milk based portfolio, NESCAFE Classic and NESCAFE Sunrise, all of which performed well this quarter. MAGGI also witnessed solid growth towards the end of the quarter after initial supply constraints.
The initial supply constraints are also material - while this might be anecdotal, early on during the national lockdown, there were reports from different cities regarding the availability of Maggi in stores (Maggi is a classic home consumption food, ideal for a quick cooked snack when working from home, so its demand would have never been an issue).
The supply issues regarding Maggi were a surprise to analysts as well. Mint reports:
Analysts from Kotak Institutional Equities said: "Given this (strong March quarter) and, in view of Nestle's portfolio and execution strength, we hadn't expected any supply-chain issues; to that extent, supply chain issues in Maggi surprised."

Kotak analysts wrote in a report on 28 July: "We note that other FMCG companies smartly leveraged third-party distribution (including startups), rationalized SKUs to drive cost savings and cut down on trade incentives or promotions (aided gross margins). Nestle's higher urban salience hurt as well."

Meanwhile, Nestle's e-commerce channel increased by 122% in the June quarter, and now contributes 3.6% to domestic sales. 
3.6% of revenues coming online seems rather low, but for an Indian consumer goods firm, that is not low at all.
---
Another activity that most people largely do outdoors is smoking. Communal smoking breaks in the middle of an office workday are so common that one Japanese firm offered extra six days' paid leave to non-smokers. Another British firm offered non-smokers four days of extra paid annual leave (does this mean that Japanese take 50% more smoking breaks than Brits?).
Working from home during the pandemic, of course, means there is no scope for communal smoking breaks (unless you were to manage to arrange these with your neighbours). So cigarette smoking is down. ITC, India's largest cigarette brand, reported that cigarette sales dropped 35-40% (by volume) during the quarter.
ITC's profits during the quarter fell 26% (YoY). Luckily for the company, it has been hedging its bets away from the cigarette business for over two decades now, and the company's consumer goods division showed robust (10.3% YoY) growth. Excluding education and stationery products, the growth was 19%, said the company.
From this Mint article describing ITC's results:
The company said its cigarettes business clocked a revenue of ₹4,330.05 crore in the first quarter as against  ₹6,141.92 crore a year ago.

Other FMCG segment revenue stood at  ₹3,378.84 crore as compared with  ₹3,068.07 crore a year ago, it added.

Hotels business revenue plummeted to  ₹24.92 crore, as compared to  ₹411.60 crore in the corresponding quarter of the previous year.

On the other hand, ITC said its agri business had a revenue of ₹3,764.56 crore in the first quarter, up from  ₹3,622.40 crore a year ago.

Paperboards, paper and packaging vertical had a revenue of ₹1,026.44 crore as compared to  ₹1,527.53 crore in the year-ago quarter, ITC said.
Cigarettes down, hotels down, papers down, consumer goods up, agri business up. Nothing really surprising.
---
The results of Marico, another consumer goods company whose best-known brand is Parachute Hair Oil, can be understood on both the home-and-away and necessity-luxury axes.
People spending more time at home means they are cooking more and eating out less. The raw materials that people use to cook at home are sometimes different from what restaurants use. One brand that is big among home cooks, but apparently not so hot among restauranteurs is Saffola (safflower oil) made by Marico.
Saffola sales grew 16%. Marico's "value added hair oils" category (that sounds like a luxury) saw a 30% decline in sales. The flagship Parachute oil (not a luxury) saw a 11% decline in sales - if people aren't going out, they possibly see less point in oiling their hair.
---
While we love our frameworks and broad themes, they can't be used to explain everything. For example, Colgate Palmolive's profits went up by 17% even though revenues were down 5% (essentially they cut costs). An analyst report by Elara Capital elaborates:
Colgate Palmolive (CLGT IN) net sales was down 4.1% YoY (overall volume decline of 8% YoY) at INR 10.4bn, 15% ahead of our estimates, as toothpaste (~80% of sales) volume shrank 6% YoY while value growth was up 5% YoY as it reversed trade promotions (5-6% of sales as per our estimates) and had already executed a 5% price hike in March. Toothpaste sales in May grew in the high single digits and in June in mid-teens in value terms. The toothbrush category (~18% of sales), was down by 50% YoY in value terms.
The cost-cutting, as per Elara, was on account of cutting trade promotions. And a price hike just prior to the lockdown meant that even as toothpaste volumes fell, revenues increased.
The interesting bit is the toothbrush category, whose sales fell 50%. This is again possibly related to the cutting of trade promotions. We always knew that toothbrushes are "push products", but this drop in sales shows the extent to which things like promotions matter.
Elsewhere, as business conditions become tough, consumer businesses are resorting to cutting the product portfolio.
Sanjiv Mehta, the chief executive officer (CEO) of Hindustan Unilever, India's largest consumer staples company revealed that the product inventory range has become smaller and simpler since the beginning of the lockdown. He may not be the only one.

"Certainly, our business has become much more agile. We have simplified many things like I say I am now working with much fewer SKUs (stock keeping units) that doesn't mean I will keep this number of SKUs only, but I won't go back to the earlier number of SKUs so the organisation will become much more simpler," he said. 

Anil Talreja, partner and leader, Consumer Industry, Deloitte India said, "By reducing the SKUs, the manufacturers can bring efficiency to their supply chain by removing the items with the lowest household penetration. We can also expect the companies to reduce the amount of line extensions which will enable greater ease in manufacturing as well as less load on the retail stores with respect to stocking and display of the same."
HUL's analyst presentation that followed its Q1 results had this graph, which summarises pretty well how the lockdown has cut the number of active SKUs, and HUL's plan: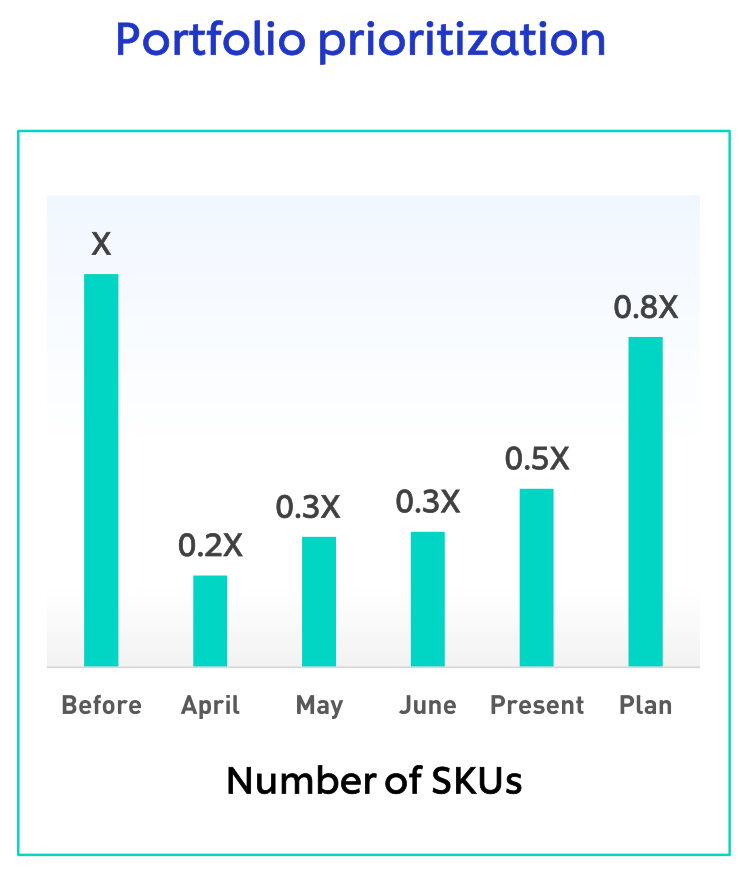 One way to read this rationalisation is in conjunction with what we mentioned about Nestlé's online sales - when you are selling online it makes sense to have a smaller product range. A smaller range can mean more sales per SKU, which can push up the item in search results on sites such as Amazon.
This SKU rationalisation is not limited to packaged goods firms. Bajaj Auto is also planning to cut its product range significantly, to save on inventory costs.
"We are in the process of sharpening our product portfolio," Rakesh Sharma, executive director of Bajaj Auto, told Business Standard, adding that the move will include reducing the number of offerings at least by one-third. "A very high number of variants add to the working capital burden of the dealers," Sharma said.

"We haven't received any such communication from the company as yet, but if they are considering this it will indeed be a big relief as maintaining such a large SKU (stock keeping unit) is a headache for us," said a Bajaj Auto dealer.
Now this trend towards moving to a smaller number of "power brands" is not new (see this and this). It needs to be seen if this time it will sustain.