Deals, Net margins, Attrition: The DNA of the IT Services Industry
The key to doing well in IT services, based on recent quarterly reports, seems to be keeping a positive attitude and focussing on "digital"
The earnings season continues, and as promised yesterday, we continue to bring it to you. The "big four" of Indian IT services have all announced their quarterly earnings in the last two weeks.
TCS, the largest of the four, saw a flat revenues and a 14% drop in net profits. The company blamed the pandemic for the drop. "It affected all verticals, with the exception of Life Sciences and Healthcare, with varying levels of impact.", CEO Rajesh Gopinathan told the Economic Times.
Wipro, the smallest of the four, showed flat revenues and flat profits. Again the pandemic is seemingly to blame. This is what the company said in a stock exchange filing, reported by Mint.
The conditions caused by the Covid-19 pandemic could decrease technology spending, adversely affect demand for our products, affect the rate of customer spending and could adversely affect our customers' ability or willingness to purchase our offerings, delay prospective customers' purchasing decisions, adversely impact our ability to provide on-site consulting services and our inability to deliver our customers or delay the provisioning of our offerings.
With the largest and smallest both showing flat revenues, and citing the pandemic for it, we might have expected that the entire sector to show muted numbers. That wasn't to be.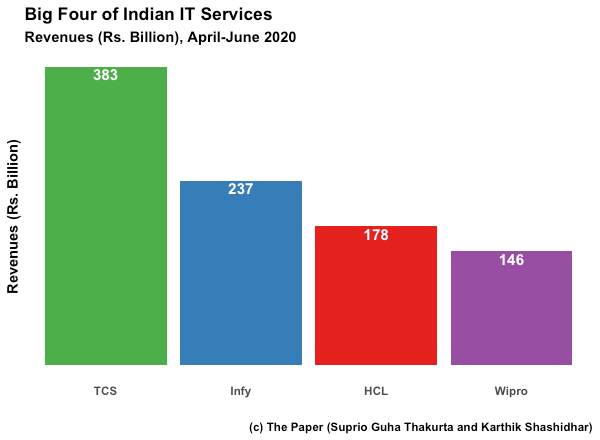 HCL Tech posted a whopping 31% increase in net profit and 8.5% increase in revenues. Infosys also saw 8.5% increase in revenues and 11.5% increase in profits. So how did these two IT services biggies manage to grow during the quarter where the pandemic muted the growth at their two big competitors?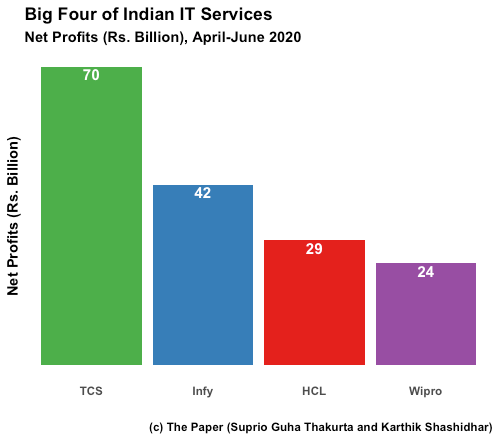 If you have listened to too many management gurus, you will be prone to talking a lot about "attitude". You will seek to "turn lemon into lemonade", and try to convert weaknesses into opportunities. Maybe whatever Infosys spent on management gurus (the number might be zero, we are only guessing) worked.
"Operating margin expanded to 22.7 per cent driven by preemptive deployment of our strategic cost levers along with tactical opportunities triggered by the Covid situation", said Nilanjan Roy, Chief Financial Officer. "Collections were robust and capex was focused, which led to a 50 per cent year on year increase in free cash flows. Our liquid and debt free balance sheet is a huge source of strength in these times."
(emphasis added)
Infosys's revenues in "digital" went up by 45% in the quarter compared to last year. HCL Tech also sang the "digital" mantra to explain why it had done well this quarter. Shiv Nadar, who was Chairman of HCL at the time of announcement of the results (we will get to this in a bit), was quoted as saying:
[…] this has also pushed businesses to accept the pandemic as a catalyst for change and look at building agility and resilience into every level of their organization. HCL, along with its partners, is helping customers embrace digital transformation and innovation to emerge stronger in this new normal.  
So for an IT services to do well in the time of this pandemic, it essentially needs a positive attitude (look at the potential offered by the pandemic) and embrace "digital". What is this "digital"? Mint reports that its definition varies, but that it is now "mainstream business".
While digital is defined differently across organizations, typically practices that cover emerging technologies like cloud, mobility, analytics, Internet of Things (IoT), and cyber security are clubbed under digital business.

Until recently, most IT services companies separately reported their digital revenues but the trend is changing as digital has increasingly become part of their mainstream offerings.
Yesterday we talked about how as people spend more time at home, they continue to consume the same stuff but the way they consume it changes. People spending more time at home means that people also spending more time working from home. This results in opportunities for IT services companies to enable "digital transformation" in their clients.
The more your business is "digital" (things in databases rather than in ledgers, documents residing in the cloud rather than in paper folders, etc.) the easier it will be for your employees to work from home. And since more people have been forced to work from home nowadays, companies have been forced to undertake possibly long-pending digital transformation assignments.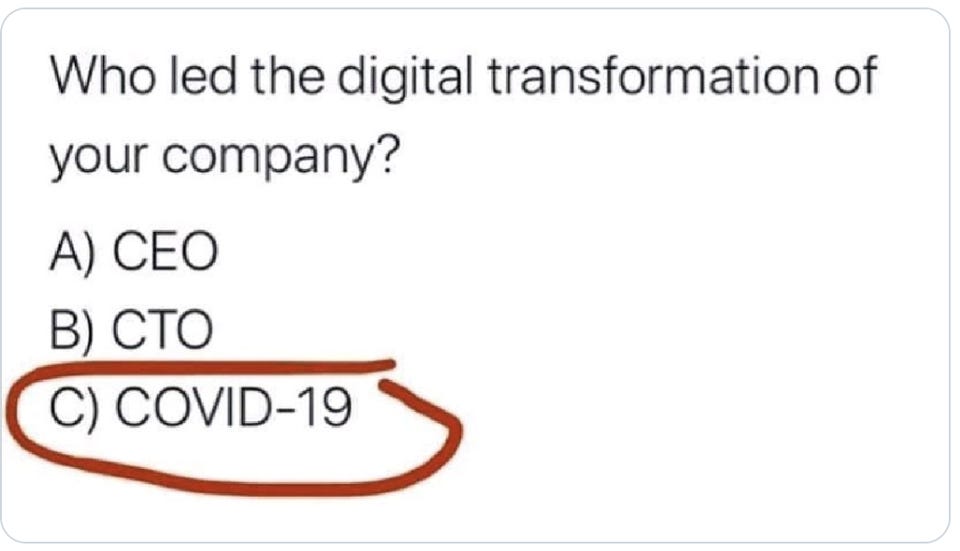 This is what seems to have driven the growth at Infosys and HCL Tech (however, with digital "becoming mainstream", as Mint argued, Wipro and TCS have stopped mentioning its numbers separately).
"Digital is definitely mainstream for IT services providers. Comparing digital revenues across providers can be difficult because different providers use different definitions for digital revenue," said Dean Blackmore, senior director analyst, Gartner. "We estimate that in 2019, non-digital IT services revenue was still around 52% of total IT spending. However, by 2023 that will drop to around 31%."
Nevertheless, Infosys's big announcement along with its quarterly results was a "classic Indian IT/BPO services deal" - the company announced a $1.5 billion deal (the duration isn't clear from the reports) with Vanguard, the index fund company.
Vanguard Group, the Malvern-based investment giant that employs more than 12,000 in Chester County, says it will transfer out of the company 1,300 workers who handle employers' 401(k) plans for five million working and retired Americans.

The staffers will start working later this year for a contractor, a new Malvern-based unit of Infosys, the India-based technology outsourcing giant.

The switch includes record-keeping, client administration, operations, and technology workers at Vanguard's Malvern headquarters and its smaller operations centers in North Carolina and Arizona.

Employees will keep their same pay and benefits and work at existing Infosys offices nearby, for the first year.
(emphasis added)
This is classic Indian IT/BPO services play. Take over the existing operations of a large corporate along with the employees. The next step will be to offshore whatever work is possible. Notice that the transferred employees are guaranteed their salary and benefits only for one year. There is a reason for that.
Vanguard employees are obviously not happy. The comments section of the above linked story look like this: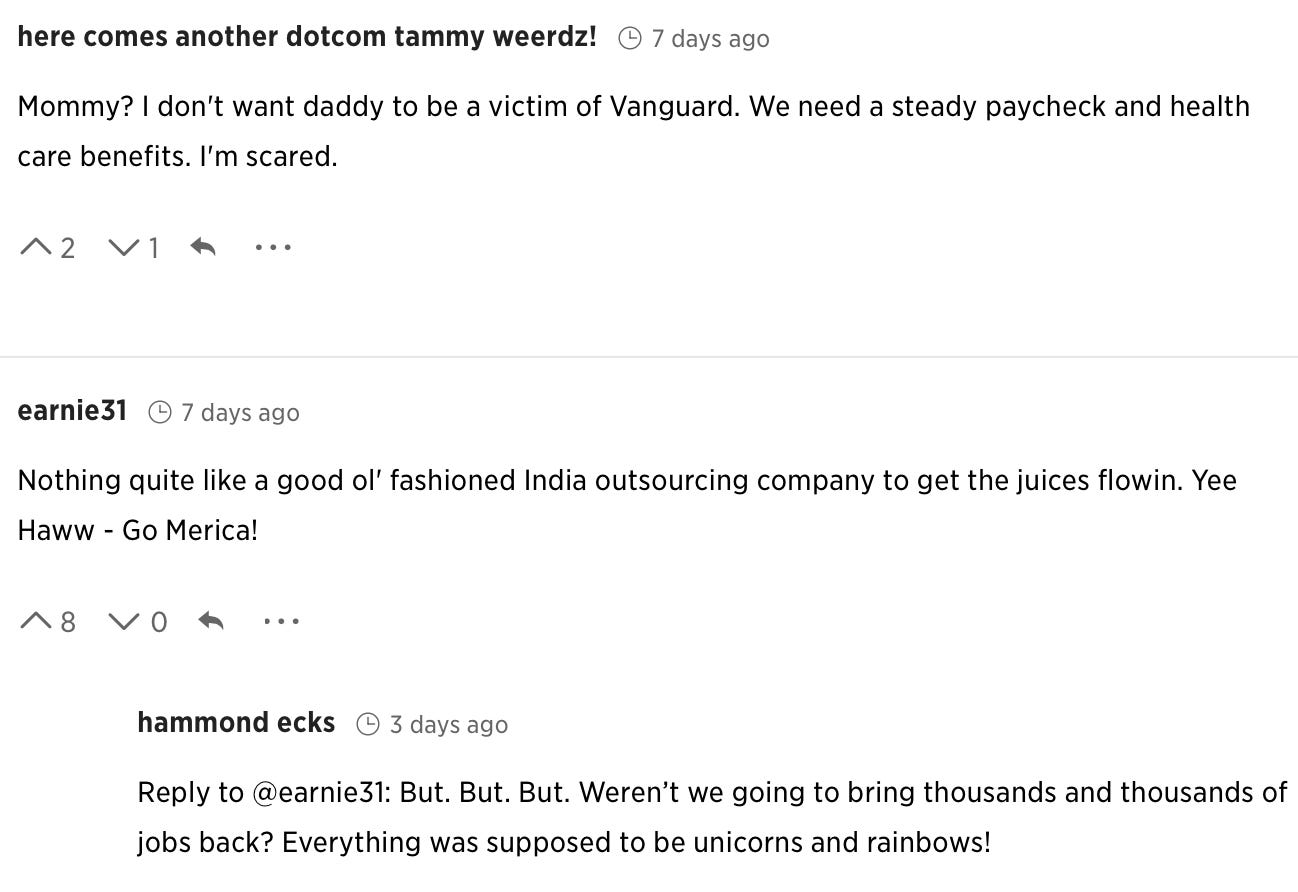 HCL Tech had its own big announcement to make as part of its quarterly earnings announcement, and given that it is a promoter-driven company (the promoter group owns 44% of the company), it had to do with succession. Chairman Shiv Nadar handed over the reins to his daughter Roshni Nadar-Malhotra.
She was ranked 54th on the Forbes list of the world's 100 most powerful women in 2019 and is the richest woman in India, according to IIFL Wealth Hurun India Rich List of 2019.

Like her philanthropic father, she is deeply involved in social work as a trustee of the Shiv Nadar Foundation. 

[…]

Analysts pointed out that Nadar Malhotra's appointment is set to bring more diversity to IT sector leadership. Just as Wipro Ltd chairman Rishad Premji leads a lot of the policy dialogue across industry and government engagements, Nadar Malhotra, too, will be increasingly seen on such platforms, they said.
Yes, children of promoters stepping up in their respective fathers's shoes is surely going to bring diversity to IT sector leadership. That said, here is more about Nadar Malhotra, from The Hindu.
A Mint Editorial said the HCL Tech succession represents a "paradox", but it is unclear what is paradoxical about it since the promoter group owns nearly half the company. It also gives a good background into the history of HCL Tech. Rather than provide an excerpt, we recommend that you read the whole thing.
Not to be outdone by Infosys (Vanguard deal) and HCL Tech (succession), Wipro had its own piece of "news" to accompany the quarterly results.
Wipro also said on Tuesday that it is acquiring Brazil-based IVIA Servicos de Informatica Ltda for $22.4 million. The aquisition is likely to be completed in the quarter ending 30 September, 2020.
Interestingly, Wipro, which might come across as a staid and traditional Indian IT services company, has made some interesting acquisitions in the past. In the current circumstances, the most interesting might be TopCoder, which takes a gig economy approach to coding.
The Ken had a nice (paywalled) piece on Wipro's ownership of TopCoder, and what it means to the company.
In any case, an analyst report by Motilal Oswal (reported by Business Insider) predicts that each of these four biggies has a big year ahead of them, and can expect strong growth.