Aurous Goldfingers
Gold is trading at record high prices in India even as jewellery sales are down. What explains this?
In Indian Matchmaking, a recently released Netflix series that has been making waves (and which possibly explains why bonds aren't traded on exchanges), a character Preeti is introduced showing off some pieces of heritage jewellery that she plans to gift to her son Akshay's wife.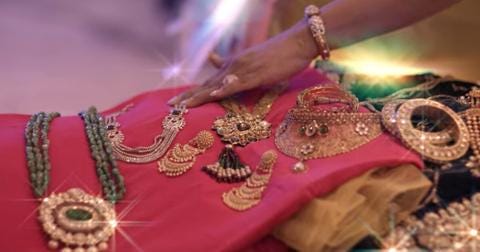 The trouble, and the reason why Preeti and Akshay are on the show in the first place, is that Akshay isn't married yet, and doesn't know whom to marry, because of which Preeti has hired the star matchmaker Sima Taparia.
It might seem far fetched that people buy jewellery for people they haven't even met (or whose existence they don't even know about), but this scene from Indian Matchmaking is sort of representative of Indians' attitude towards gold.
---
As an asset class, gold lies somewhere between a currency and a commodity. It is a commodity because there is "inherent demand" for it in terms of jewellery. It is a currency because people tend to "invest in gold" at times of economic uncertainty or during times of high inflation.
From an Op-Ed in the Financial Express:
The relationship between gold prices and stock markets is inverse. More often than not, the gold prices would drop when the stock markets perform well and vice versa. When the stock markets collapse, the demand for gold increases as more and more investors would be looking at safer options. This automatically skews up the gold price, and it is evident in the past as gold prices have skyrocketed at times of economic crisis or recession.
The interesting thing about the ongoing economic crisis caused due to the pandemic is that stock prices haven't fallen. India's benchmark Nifty index fell in the initial days of the pandemic, but has since made good some of its losses.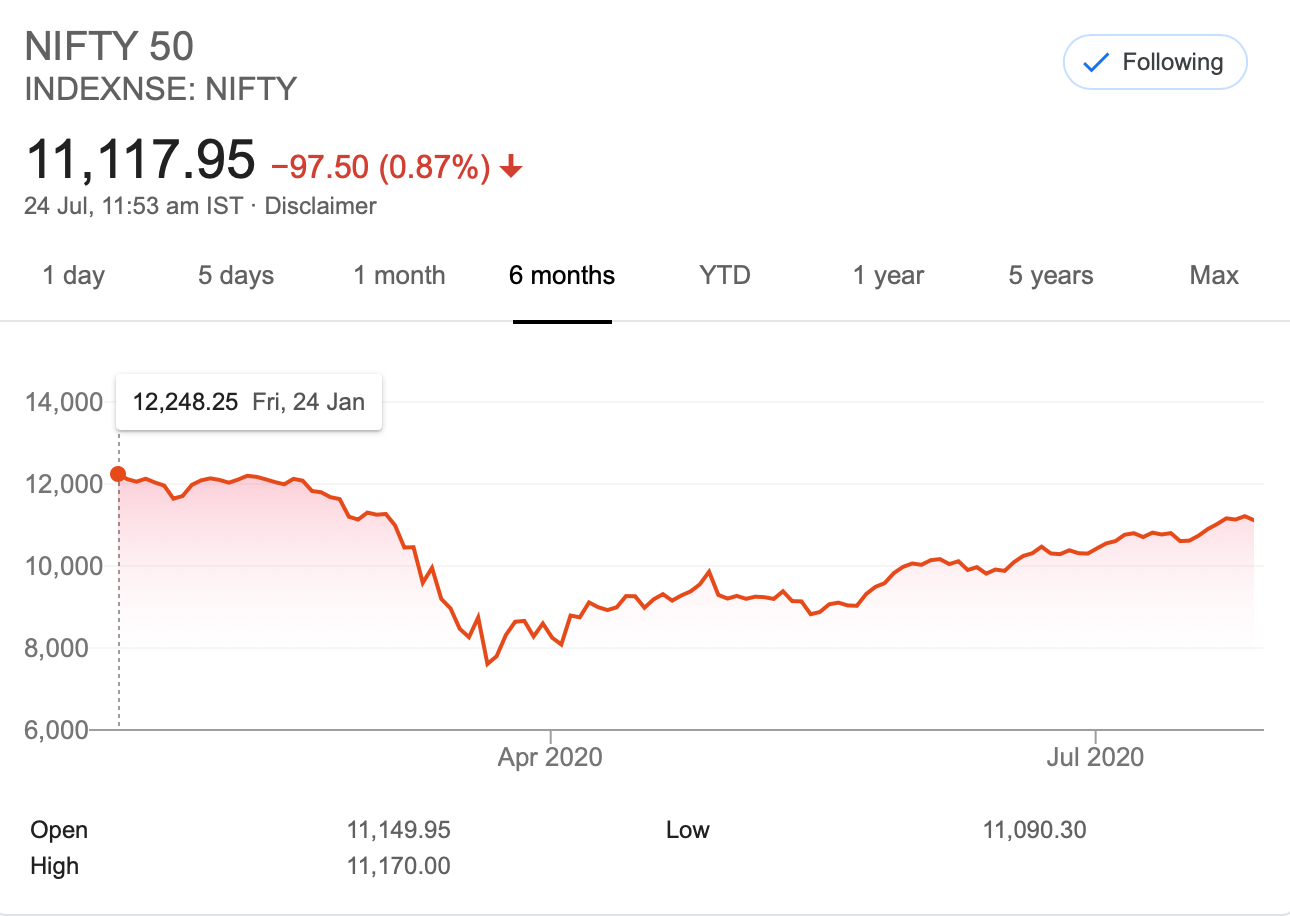 There is no surprise in this since equity prices represent expectations of discounted values of future cash flows, and the current stock market levels simply suggest that the economic crisis we are going through is likely to be temporary.
That said, the price of gold in India has hit record levels recently, crossing ₹50,000 per ten grams for the first time ever. This chart from the Economic Times shows the price of the Gold Futures expiring in early August at the Multi Commodity Exchange (MCX).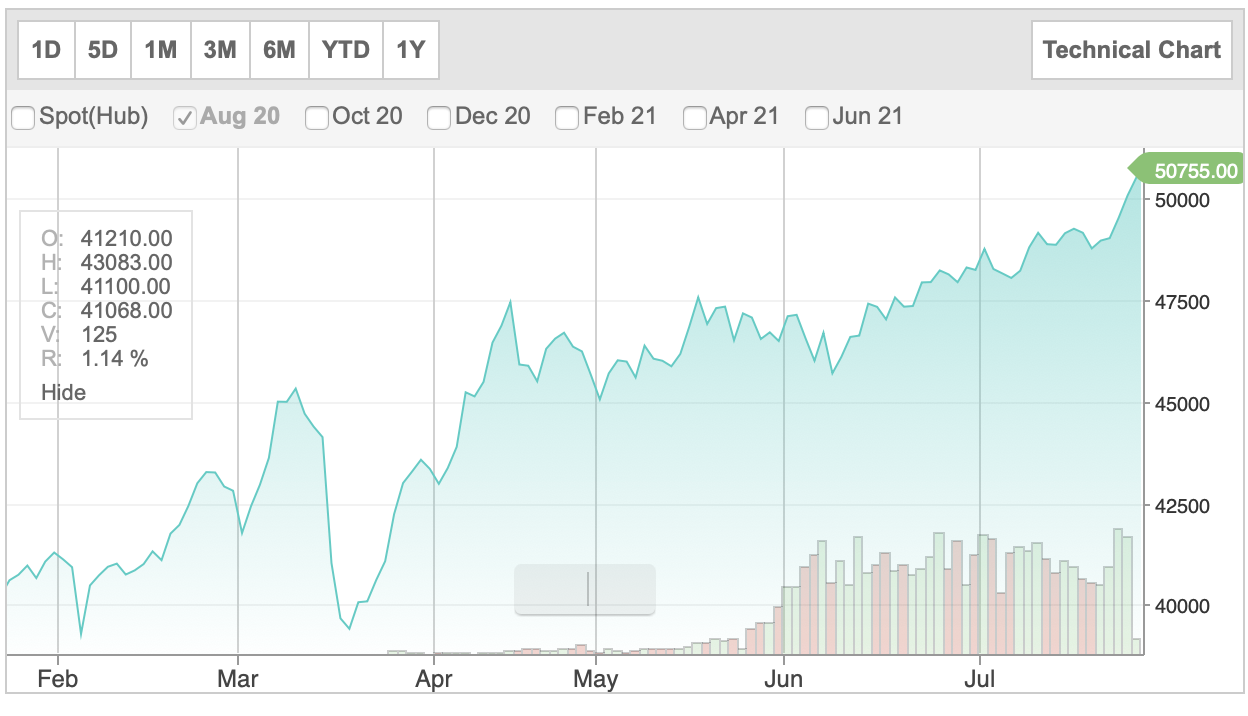 India imports all its gold requirement, so the international prices of gold translate directly to India. The reason why Indian gold prices have gone to record levels, while international prices are still well off their highs, has to do with the weakening Indian rupee, according to a report in the Economic Times.
In India, investors are flocking to sovereign gold bonds, which in the fourth tranche saw over 4 tonnes of gold equivalent being subscribed while gold ETFs (exchange traded fund) run by mutual funds are also seeing net inflows after many years. 
Investopedia has a good piece on what drives the price of gold.
In their paper titled The Golden Dilemma, Erb and Harvey note that gold has positive price elasticity. That essentially means that, as more people buy gold, the price goes up, in line with demand. It also means there aren't any underlying "fundamentals" to the price of gold. If investors start flocking to gold, the price rises no matter what shape the economy is or what monetary policy might be.
The piece, however, mentions that the supply of gold hasn't gone up over the years. Interestingly, the World Gold Council contradicts that, saying that the volume of gold produced each year has tripled since the 1970s.
Interestingly, the bull run in gold prices in India comes at a time when thanks to the pandemic and various (national and local) lockdowns, jewellery sales have been rather muted. In fact, in April, in the middle of the massive national lockdown, the Economic Times had written that Indian "gold demand might hit a 3-decade low".
Thanks to the pandemic, wedding and festival celebrations have been scaled down. Moreover, falling incomes have resulted in lower disposable income in the hands of Indians. That said, Titan, which owns the jewellery brand Tanishq, has recently seen an increase in stock price following the increase in price of gold. It is not certain if this rally will hold.
So if demand for gold in India is falling (thanks to low demand for jewellery), why are gold prices rising? Bloomberg (syndicated in Mint) has a good explainer.
Fear-driven investment demand in developed countries has contributed about 18% to this year's gain in gold prices, while weaker buying by emerging-market consumers provided an 8% drag, Goldman Sachs Group Inc. estimated in a June note. An economic recovery and a weaker dollar may mean emerging-market demand in the second half of the year could "shift from being a drag on gold prices to a tailwind."

[…]

Precious metals consultancy Metals Focus Ltd. forecasts a 23% decline for Chinese gold jewelry consumption in 2020, while Indian demand is expected to drop 36%. Chinese gold sales could be as much as 30% lower than 2019, said China Gold Association Chief Executive Officer Zhang Yongtao. Still, that is an improvement from a previous estimate of a 50% decline when the outbreak was at its peak he said.
So the price of gold that we see in India is driven by global factors (since India imports most of its gold), and with the rupee not faring well against the dollar, the prices have hit a record high. If you think about it, the demand or supply for jewellery in India is tiny compared to the overall demand and supply of gold. The Indian jewellery sector is a "price taker" when it comes to gold, rather than being a price maker.
The rising prices of gold means that the suffering at Indian jewellers is only going to increase. The normal practice is to benchmark retail gold prices to global prices, which means the recent price rise will get passed on to jewellery buyers.
Another way to look at the recent bull run in the gold price is that while its "demand as a commodity" has gone down (due to the pandemic and lockdowns), its "demand as a currency" has gone up, since these are uncertain economic times and people are looking to diversify their portfolios away from stocks.
---
Some of you might be wondering what the big deal about gold is, given that it doesn't have any "inherent value" apart from decoration. This nice "history of gold" might help put things in perspective. And this report by the World Gold Council has this graphic that shows how demand for gold in India varies based on different factors.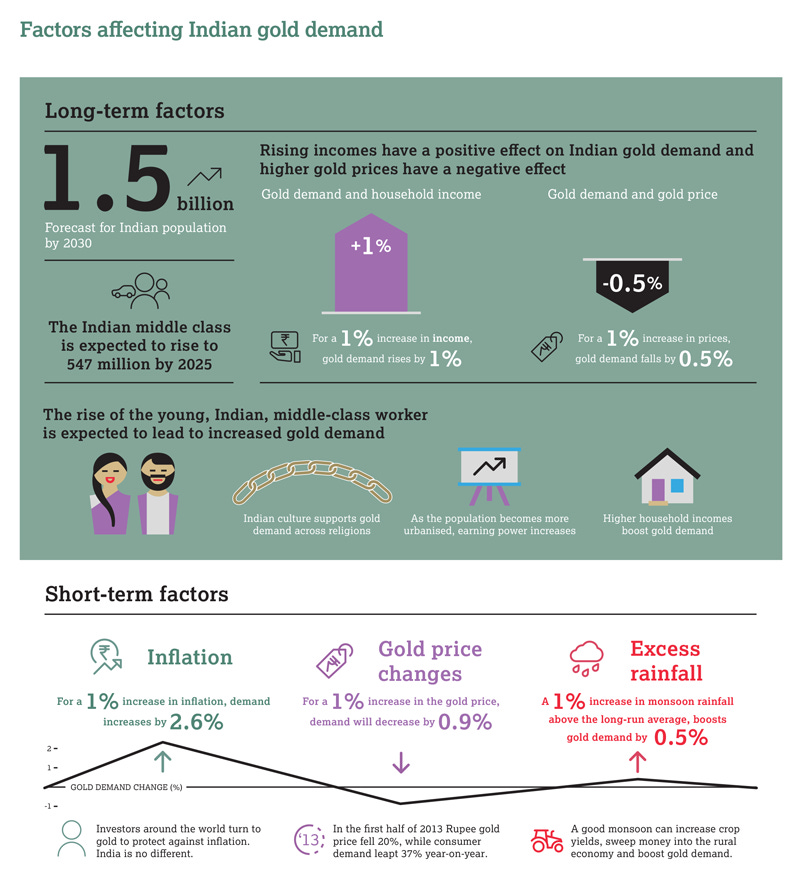 In February 2020, India had raised the customs duty on gold coins. In July 2019, customs duties on all other kinds of gold had also been increased. At that time, the chairman of All India Gems and Jewellery Domestic Council had predicted that the increase in duties would only increase the smuggling of gold into India. From the same article:
According to industry estimates, around 100 -120 tonnes of gold enter into the country through the illegal route. India annually consumes around 800 -850 million kg of gold. 
It didn't take a rocket scientist to make that prediction. Reports about "gold smuggling cases" seem to have become everyday news in Kerala.